World news story
The UK supports Vietnam in intellectual property issues.
Baroness Lucy Neville-Rolfe Parliamentary Under Secretary of State & Minister for Intellectual Property, will visit Vietnam on 23 September 2015.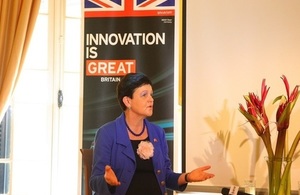 Enforcement of intellectual property rights is crucial to economic growth, especially as Vietnam has integrated into the global economy.
Building on the foundations laid by the Prime Minister David Cameron to Vietnam in July, this first UK ministerial visit for Intellectual Property to Vietnam and the region aims to help foster strong and robust Intellectual Property regimes that allow innovative companies - whether domestic or foreign - to thrive, supporting innovation and economic growth.
During her visit, Baroness Neville-Rolfe will call on Deputy Prime Minister, Nguyen Xuan Phuc, Ministry of Science and Technology, Ministry of Industry and Trade and Ministry of Public Security. She will also meet a number of Chief Executive Officers and other senior business representatives at an event organised by the British Embassy in Hanoi.
In the Intellectual Property Rights sector, an UK-funded project "Strengthening the effectiveness of intellectual property rights enforcement in Vietnam" was run in 2013.
The project, implemented by Market Surveillance Agency of Vietnam (MSA,) trained 189 staff, produced a handbook on intellectual property enforcement and held a "genuine-counterfeit" exhibition.
In 2015 – 2016, Market Surveillance Agency was granted funding for a second project. Its goals are:
Training of enforcement agencies who directly deal with IPR infringements.

Developing a teaching curriculum on IP enforcement.

Organising an "Anti-Counterfeiting Day" including a TV report on counterfeits

Development of a database of counterfeit and genuine products. An anti-counterfeiting website will continuously be updated with the latest genuine and counterfeit versions of consumer goods.
For more information about the intellectual property rights in Vietnam, please click here
Published 23 September 2015