World news story
The UK supports the development of the FinTech market in Vietnam
The Vietnam FinTech Club made its debut on 6 October at a meeting jointly hosted by Standard Chartered Bank Vietnam and Dragon Capital.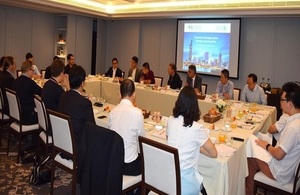 The meeting featured 20 entrepreneurs and investors in the FinTech sector, including FPT Ventures, IDG Ventures, M_Service, Fundstart, 1Pay, Pasoto.com, Loanvi.com and MyMoney.vn. They agreed to act as advocates and to pull together ideas to develop a FinTech ecosystem in Vietnam.
Douglas Barnes, the British Consul General and Director of UK Trade and Investment in Vietnam, said:
The UK is open for FinTech business with partner nations all around the world. We are delighted Standard Chartered Bank and Dragon Capital, two well-established financial institutions in Vietnam, are actively taking this initiative forward with the Vietnamese partners and we will work closely with them to nurture the FinTech industry in Vietnam.
The idea to establish a FinTech association in Vietnam was agreed during the visit to Vietnam in July 2015 by UK Prime Minister David Cameron during a roundtable discussion.
Vietnam has a young, tech-savvy population. There are 23 million smart phones in operation and 55 million mobile phone subscribers in the country. So Vietnam offers significant advantages for the development of the FinTech sector. The UK government wants to work with the Vietnamese regulators, financial service providers, and ICT entrepreneurs to create conditions for FinTech to flourish in ways which will benefit both urban and rural societies in Vietnam.
Published 16 October 2015