World news story
The UK shared with Vietnam its experience in operating airports
The UK shared experience in developing and operating busy international airports during a visit to the UK by the Ministry of Transport and delegation of officials from Vietnam's civil aviation sector.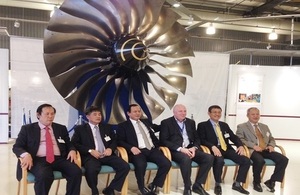 Vice Minister of Transport, Nguyen Nhat, led a delegation of senior officials from the Ministry of Transport; the Civil Aviation Authority of Vietnam; the Airports Corporation of Vietnam and Vietnam Air Traffic Management on a visit to the UK from 28th September to 2nd October .
The Vietnamese delegation discussed aviation, airport and air traffic policies, airport development and operations, and airport privatisation in their meetings with the UK Department for Transport, Civil Aviation Authority, and National Air Traffic Services. The delegation also visited the Rolls-Royce aircraft engine factory in Derby.
The Vietnamese Minister and officials had the opportunity to get an insight into how UK airports are operated when they visited Heathrow and Birmingham Airports. London's Heathrow Airport is the busiest airport in Europe and the 5th busiest airport in the world by total passenger traffic. In 2014, it handled 73.4 million passengers.
UK Export Finance told the delegation about how it could support financing of airport projects in Vietnam.
Vietnam presented its airport development and opportunities at a workshop held by UK Trade and Investment and the British Aviation Group, which drew participation from more than 40 UK companies representing the UK airport sector.
We hope that the visit – which was organised and funded by the UK Government - will help to enhance UK and Vietnam's bilateral trade and investment relationship in this very important sector on a sustainable basis.
Published 15 October 2015