World news story
The UK provides US$37 million to improve education in Zimbabwe
The United Kingdom's Department for International Development (DFID) has approved new funding to support the education sector in Zimbabwe.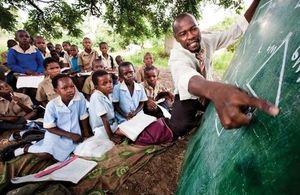 The funds will allow the progress made under the Education Development Fund (EDF) to continue. This includes the School Improvement Grants programme, which will focus on providing quality schooling for children in disadvantaged schools in rural areas. This will be delivered through the UK's trusted partner UNICEF and activities will be closely aligned to the priorities of Zimbabwe's Ministry of Primary and Secondary Education.
Annabel Gerry, Head of DFID Zimbabwe said:
This additional funding for education sector in Zimbabwe demonstrates the UK's continued commitment to ensuring access to quality schooling for all children.

Through the School Improvements programme, up to 4 million pupils will benefit from improved lessons and teaching, helping to path the way to a bright future for Zimbabwe's young people.
Reza Hossaini, UNICEF Representative said:
As the latest improvements in learning outcomes and pass rates show, the contributions made by DFID and other development partners to education over the last 5 years, as well as resources from the Government, are beginning to bear fruit.

The challenge facing Zimbabwe at this critical juncture is to build on these gains by allocating more national resources to the sector, beyond just wages. It is the only guarantee for sustained improvements in the sector.
The EDF aims to improve education in Zimbabwe through better planning, strengthening school monitoring and supervision, improving the quality of teaching and learning and reviewing the curriculum.
Key achievements of the EDF include:
Grants to 5,800 schools
Nationwide distribution of textbooks and science kits to all secondary schools
Enrolment of 54,000 children in second chance education
Provision of equipment to physically and mentally challenged children in all 32 Special Schools
Deworming of over 2.7 million children in rural areas.
The UK has one of the largest bilateral aid programmes in Zimbabwe. In 2015-16, the UK is focusing on strengthening its work on girls and women and increasing economic opportunities for the poorest people.
NOTES TO EDITORS
The EDF is multi-donor scheme which was established in 2009 to improve the education sector.
To date, a total of USD 105 million has been provided by donors including the UK, Germany and the European Union.
About DFID
Over 2014/15, DFID's support to Zimbabwe was £73 million. DFID Zimbabwe's key programming priorities for 2015/16 are:
Providing infrastructure, assets, finance, skills and access to markets needed for people to earn enough money to meet their basic needs;
Improving access to health, water and sanitation, and education; and
Helping to strengthen democracy and improve the way the economy and public finances are managed by the Government of Zimbabwe to support both economic development and poverty reduction.
UK Aid has made a huge difference to the lives of poor Zimbabweans. Our support has:
Achieved food security for over 1 million people (since 2010);
Supported 364,000 children to attend primary school in 2013/14;
Provided clean water and improved sanitation to 770,000 people (since 2009/10);
Created economic opportunities for 98,000 people by 2014;
Helped reduce the Maternal Mortality Ratio from 960 per 100,000 in 2010 to 614 per 100,000 in 2014.
DFID uses its technical expertise and strong partnerships with other development partners from the European Union and elsewhere to deliver an effective aid programme for the benefit of the poorest people of Zimbabwe. No UK aid goes directly through GoZ systems. UK aid is instead channeled through multilateral institutions such as United Nations Agencies, as well as international Non-Governmental Organisations and the private sector.
For further information, please contact Sibusisiwe Ndlovu
About UNICEF
UNICEF works to ensure that children survive and thrive, from early childhood through adolescence. UNICEF supports the Government in child health and nutrition, good water and sanitation, quality basic education for all boys and girls, and the protection of children from violence, exploitation, and AIDS. Since 2010, UNICEF has been managing multi-donor pooled funds (transition funds) in health, education, child protection, and water and sanitation which, which have contributed to improved results for women and children.
For more information, please contact Victor Chinyama or visit the UNICEF website.
Published 7 September 2015