Press release
The UK joins partnership to tackle deforestation
Energy and Climate Change Minister Greg Barker today pledged UK support to the Tropical Forests Alliance 2020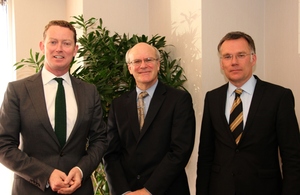 Press release: 13/037
Energy and Climate Change Minister Greg Barker today pledged UK support to the Tropical Forests Alliance 2020, a partnership set up by the Consumer Goods Forum (CGF) and the US Government to tackle deforestation. Minister Barker made the announcement during a meeting with Donald Steinberg, Deputy Administrator of the United States Agency for International Development, in Washington today.
The CGF, an industry network representing over 400 retailers and manufacturers, aims to eliminate deforestation from palm oil, soya, beef and paper supply chains by 2020.
The Alliance, established in 2012 to realise the CGF target, brings together companies and governments to identify practical opportunities for more sustainable production methods and supply chains.
Energy and Climate Minister Greg Barker said:
"The urgency of tackling climate change is clear and limiting global warming to 2°C limit will be extremely challenging – if not impossible – without a significant reduction in deforestation before 2020.
"With up to 17% of global greenhouse gas emissions coming from deforestation, tackling this issue is a central part of how to address climate change, support greener growth and sustainable development.
"Joining the Alliance builds on the work the UK is already doing with the timber industry and rainforest countries to crack down on illegal logging, and our plans to address the agricultural drivers of deforestation".
"The UK wants to accelerate international efforts to reduce deforestation. That's why we are keen to work with the Alliance, and help drive this important agenda forward."
USAID Deputy Administrator, Donald Steinberg said:
"Global challenges require global scale. Bringing together the public and private sectors and civil society through the Tropical Forest Alliance 2020 demonstrates how we can tackle reducing deforestation and greenhouse gas emissions while promoting food security and economic growth."
The Alliance will provide a forum in which to share best practice with major private companies that have adopted sustainable supply chains, and encourage other governments and companies to take similar steps.
Notes for editors
The Consumer Goods Forum (CGF) is an association of over 400 retailers and manufacturers from 70 countries, with combined sales of over US$3 trillion. Prominent British companies in the CGF include Unilever and Tesco, the CEOs of which lead the Forum's sustainability initiative.

The Tropical Forest Alliance 2020 was established by the CGF and the US government at the Rio+20 Summit in 2012, a United Nations Conference on Sustainable Development.

As well as the UK, Norway and the Netherlands have also been invited to join the Alliance.

Slowing deforestation is the primary objective of UN climate change negotiations focussed on Reducing Emissions from Deforestation and forest Degradation (REDD+), which is currently ongoing under the auspices of the UN Framework Convention on Climate Change (UNFCCC).

An outline of the UK's planned efforts to tackle deforestation can be found on the GOV.UK website

The UK Government is also acting on its own supply chain, and recently announced plans to sustainably source all palm oil from 2015. This announcement can be found on the National Archives site
Published 11 April 2013