World news story
The UK is destination of choice for Australian Retailers
The UK is the number 1 destination globally for Foreign Direct Investment retail projects by Australian companies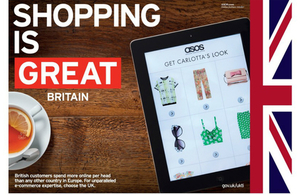 In 2014 and 2015, Australian retail companies delivered over £203 million pounds in capital investment and 1800 jobs to the UK, making it a destination of choice for Australian retailers looking to expand and grow their business.
Brands like Cotton On, Nixon, Lovisa, Windsor Smith, Typo, Smiggle, Element and Industrie have all established successful operations in the UK, leading the way for other Australian brands to follow.
UK retail and creative opportunities for Australian business are in the spotlight this week with a visit from the Retail, Creative and Technology specialist, Tony Hughes, from the UK's Department for International Trade. Mr. Hughes, who is also a dealmaker for DIT's Global Entrepreneur Programme, will give the key note speech and host a panel discussion at leading retail technology trade event Online Fashion Success in Sydney on Monday 7 November on the future of retail and opportunities for Australian retail businesses in the UK. Tony Hughes said:
"It's great to see so many Australian retailers succeeding in the UK and I look forward to meeting other businesses who wish to expand globally during my visit, and discussing how DIT can help them.
It's an exciting time in retail with tech innovations reinventing the retail landscape, how retailers do business and how they interact with customers. The UK is at the forefront of many of these developments and has a huge retail market – sales were £340bn last year with the 3rd largest Ecommerce market globally. It presents a tremendous growth opportunity for Australian retailers looking to access innovation and expand their business internationally."
Notes
The UK is the number 1 destination for foreign direct investment (FDI) in Europe and the 2nd largest FDI retail destination globally (source: FDI Markets).
In 2014 and 2015, Australian retail companies delivered over £203 million pounds in capital investment and 1800 jobs to the UK. (source: FDI Markets user generated report. This report was automatically created by FDI Markets using the criteria selected by the user. Whilst care has been taken in programming the analysis and presentation of data, abnormalities may occur. The Financial Times Ltd accepts no responsibility for the accuracy or otherwise of the content)
The total value of retail sales in the UK (excluding fuel) in 2015 was £340 billion (ONS, 2015).
The UK fashion industry's total contribution as a whole to the UK economy is now estimated to have risen to over £46 billion, an increase of 23% since 2009 (Onrec, 2015).
The UK is the world's third most popular shopping destination for international online shoppers (Retail Gazette, 2015).
Online retail expenditure in the UK is forecast to rise by 44.9% since 2015 to reach £62.7bn in 2020, according to analysts at Verdict. (Retail Week, 2015).
After the initial market reaction to Brexit the UK retail market has bounced back. Retailers reported the strongest pace of growth since September 2015 over the year to October with sales expected to expand at a similar pace next month, according to the latest CBI monthly Distributive Trades Survey.
Media Contact
Annie Galea
Head of Communications
British Consulate-General, Sydney
annie.galea@mobile.trade.gov.uk
(02)82472274
The UK's Department for International Trade (DIT) has overall responsibility for promoting UK trade across the world and attracting foreign investment to our economy. We are a specialised government body with responsibility for negotiating international trade policy, supporting business, as well as delivering an outward-looking trade diplomacy strategy. www.gov.uk/dit
Published 3 November 2016