World news story
'The UK has been a consistent supporter of Bosnia and Herzegovina's Euro-Atlantic ambitions'
Statement by Ambassador Tatham, of the UK Mission to the UN, to the Security Council meeting on Bosnia and Herzegovina.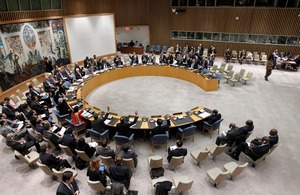 Mr President,
I would like to thank High Representative Valentin Inzko for joining us in the Council today and join others in expressing our appreciation of his work and his latest report. His detailed and objective analysis of the worsening political situation in Bosnia and Herzegovina makes for sobering reading and I wish to convey the United Kingdom's support for the High Representative and his continued commitment to the implementation of the Dayton Peace Accords in this context.
Mr President,
The United Kingdom shares the High Representative's frustration and concern at the continuing lack of political will to deliver crucial reforms in Bosnia and Herzegovina since his last appearance before the Council.
We deeply regret that Bosnia and Herzegovina's leaders were unable to seize an important opportunity this year to make tangible progress towards joining the EU and NATO. The United Kingdom has been a consistent supporter of Bosnia and Herzegovina's Euro-Atlantic ambitions and continues to believe that EU and NATO membership remain the strongest way to ensure the security, stability and territorial integrity of Bosnia and Herzegovina.
Mr President
In July, one of Bosnia and Herzegovina's neighbours, Croatia, will join the European Union. There is a lesson here: that a determined and strategic commitment to the accession process and to related reforms yields results. Reform progress carries aspirant countries forward down the path of European integration. Journeys which seem long and distant in their early stages can end up being completed.
But this only happens where politicians act decisively and strategically; where they commit themselves to the goal of European Union membership; and where they make sustained efforts to implement the necessary reforms. What we have seen in Bosnia and Herzegovina over this reporting period is that, yet again, personal and political interests have been prioritised over the needs and ambitions of ordinary citizens, leaving the country to fall further behind its neighbours on the EU track.
We still hope that Bosnia and Herzegovina will be able to make progress towards the EU this year and bring their Stabilisation and Association Agreement into force. But the ball is in their court. As the High Representative notes in his report, the EU has already provided generous support to help facilitate a solution to the European Court of Human Rights 'Sejdic-Finci' ruling that remains the sole obstacle to their Stabilization and Association Agreement. That the political parties were unable to agree a deal in spite of this support was deeply disappointing and unless Bosnia and Herzegovina's governing institutions act quickly and decisively to remedy this and find a solution, it has all but ended their chances of submitting a credible membership application this year.
We are disappointed also at the failure to complete the registration of defence property that continues to hamper implementation of Bosnia and Herzegovina's NATO Membership Action Plan, in spite of assurances made by party leaders to NATO Secretary General Rasmussen during his visit in February. We urge them to fulfil their commitment to the March 2012 agreement.
We share the High Representative's concern and condemnation of those in the Republika Srpska who continue to advocate the dissolution of Bosnia and Herzegovina. There can be no re-drawing of the map, nor any prospect of Bosnia and Herzegovina joining the EU as anything other than a single, sovereign state.
We are also gravely concerned by the sustained political crisis in the Federation and the continued impasse in Mostar. The ongoing disputes and associated institutional gridlock deeply discredit the political parties in the Federation. As the Peace Implementation Council Steering Board has pointed out "ensuring the functioning of institutions is not a choice, it is an obligation". We fully support the High Representative's efforts to find a local solution to these issues and welcome his continued co-operation with the EU Special Representative in pushing for their resolution.
Mr President,
There have been rare occasions this year where agreement has been found amongst Bosnia and Herzegovina's leaders. As the High Representative's report makes clear, the successful reshuffle of the Council of Ministers has led to regular meetings this year and the passing of the state budget on time is to be welcomed. These incidents show that political will can be found to act in the national interest, and we must continue to actively encourage this behaviour.
But these are regrettably rare examples. Meanwhile the social, political and economic impacts of inaction are already apparent in Bosnia and Herzegovina. We share the High Representative's concern at the deteriorating economic situation and call on Bosnia and Herzegovina's leaders to ensure the country is well prepared to weather the economic impact of Croatian accession to the EU in July. Here again, the state of near-gridlock which we have witnessed in recent months is very damaging: not just because of the signal it sends to potential investors but also because it contributes to delay in disbursing international financial assistance for Bosnia and Herzegovina.
Mr President,
The negative trends that the High Representative illustrates in his report reinforce our assessment that international safeguards and a reinforced EU presence continue to play an important role in ensuring security and stability in Bosnia and Herzegovina. As such, the United Kingdom supports the High Representative's recommendation that EUFOR Althea and its executive mandate are retained this year and we look forward to discussions on this matter at the October EU Foreign Affairs Council and in the UN Security Council in November.
Published 14 May 2013
Last updated 14 May 2013
+ show all updates
Edited the second last paragraph, 'But there' changed to 'But these'.
First published.