World news story
The UK funds solar power panels for primary schools in Khyber Pakhtunkhwa
An agreement to provide solar panels for schools in Khyber Pakhtunkhwa (KP) was announced yesterday by the UK's Department for International Development (DFID) and the Saudi Fund for Development (SFD).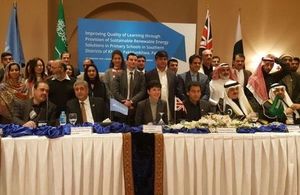 This agreement, which will provide energy for primary schools in the southern districts of the province, was signed today with the United Nations Office for Project Services (UNOPS) at the Serena Hotel, Islamabad.
Over the next two years UNOPS will implement the project on behalf of the government of KP with £6.5 million of funding jointly committed by DFID and SFD.
While addressing the signing ceremony, DFID Head Joanna Reid said:
We know that Pakistan has an education emergency. The UK is committed to helping the government of Khyber Pakhtunkhwa to tackle that emergency in their province. I am confident that the provision of electricity in the schools of the southern districts of KP will eventually get more boys and girls to go to school and get the quality of education they deserve.

I commend the government of Khyber Pakhtunkhwa for working to provide electricity in all its schools and for making major strides in providing missing facilities.
Speaking at the event, KP education Minister Atif Khan said:
Education is one of the top priorities of the KP government and we're committed to providing quality education in every single district of the province. Lack of facilities in schools directly affects children's education and I'm grateful for DFID and the Saudi Fund for Development for investing in the children of KP.
The grant will cover nearly 2000 government schools in seven districts of KP including Bannu, D.I. Khan, Karak, Kohat, Lakki Marwat, Tank and Hangu. Out of these, more than 700 schools are girls' schools with more than 81,000 girls already enrolled.
Lack of basic facilities in the government schools in Pakistan remains one of the main reasons for lower enrollment rates and higher dropout rates. The problem of missing facilities can be particularly acute in remote areas.
That's why providing missing facilities is one of the top priorities for the KP government. With DFID and SFD funding the provision of solar panels in these schools, the KP government can focus its funding on other missing facilities.
Saudi Arabia's Ambassador to Pakistan His Excellency Mr. Nawaf Saeed Ahmad Al-Maliki, SFD Director General (Operations) His Excellency Fawzi Al-Saud, DFID Head Joanna Reid, UNOPS Regional Director Mr. Sanjay Mathur and KP Education Minister Atif Khan attended the signing ceremony amongst other participants from the international community and various government departments.
More information
For updates on the British High Commission's 70th Anniversary of UK – Pakistan relations and for more information on the Chevening Programme, please follow our social media channels:
Contact
British High Commission
Islamabad
tel. 92 51 2012000

Published 15 February 2018