World news story
The UK Foreign Secretary strengthens ties with Kuwait
The British Foreign Secretary William Hague will visit Kuwait on 6 December 2013 to deepen cooperation between the UK and Kuwait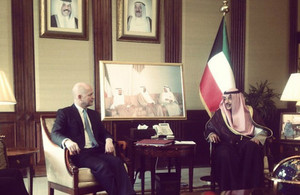 The Right Honourable Mr. William Hague MP, United Kingdom Secretary of State for Foreign and Commonwealth Affairs, will pay a visit to Kuwait on 6 December 2013. The Foreign Secretary will be accompanied by The Director of Middle East and North Africa Department, Mr Edward Oakden.
The Foreign Secretary will hold bilateral discussions with HE Sheikh Sabah Khaled Al-Hamad Al-Sabah, Deputy Prime Minister and Minister of Foreign Affairs. Mr. Hague will hold a meeting with HE Mr Marzouq Al Ghanim, Speaker of the National Assembly and HE Sheikh Mohammed Abdullah Al-Sabah, Minister of State for Cabinet Affairs and Minister of Health.
During his meetings Mr Hague will discuss the latest developments in the region and how to deepen cooperation between the UK and Kuwait, as historic allies, in pursuit of the shared goal of regional stability.
Mr Hague`s visit to Kuwait aims to deepen mutual trust and understanding and further bilateral cooperation, whether political, economic or more broadly between Kuwait and the United Kingdom.
The Foreign Secretary will also attend an event organized by Sout Al Kuwait to experience the open nature of Kuwaiti politics and get an insight into the important role played by civil society. The invited participants will engage in a lively discussion on democracy, political participation and youth empowerment. Mr Hague will also answer questions put to him on Twitter during this event – all are invited to contribute using the hashtag #askFS.
Published 5 December 2013