World news story
The UK donates security equipment to Tunisian authorities
British Ambassador to Tunisia presents advanced security equipment to Tunisian authorities to help counter terrorism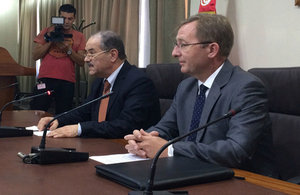 British Ambassador Hamish Cowell handed over yesterday Explosive Trace Detection equipment to the Tunisian Ministry of Interior.
In a ceremony to present the equipment and sign a Memorandum of Understanding, the Ambassador said:
This is a pilot project which we hope to expand in the future. We have worked closely with the Ministry of Interior on this project over the last six months. It has involved both strategic level training – provided by our Ministry on Defence – and technical level training on the use and maintenance of the equipment. This project is an example of our commitment to work with Tunisia in strengthening security and combating terrorism.
For more information
Published 22 October 2014