"The UK and UAE are close, trusted friends"
Foreign Office Minister Alistair Burt attended the football match between the teams of Great Britain and the United Arab Emirates on 29 July.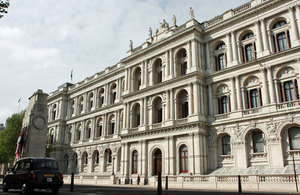 Following the match, he said:
"I was delighted to attend the football match between Team GB and the United Arab Emirates. Tonight we were keen competitors but, beyond the football pitch, the UK and UAE are close, trusted friends. Our two countries have strong mutual interests which give great scope for working together, whether it is in trade and investment, in future energy needs or to support our common security. This is why over the last year we have ensured regular contact, and open dialogue, at the most senior levels and why the Prime Minister established with HH Sheikh Mohammed bin Zayed Al Nahyan the UK-UAE Taskforce. The Taskforce reflects the deepening relationship between the UK and UAE, and our commitment, through the Gulf Initiative, to strengthening our relations with all the Gulf countries. On this happy sporting occasion I would like to reaffirm the friendship between the UK and UAE and look forward to an even stronger partnership in the years to come."
The UAE is one of the priorities for the Gulf Initiative through which the British Government is committed to elevating its relations with all Gulf countries. We are expanding our co-operation with Gulf States across the board: in culture, education, defence and security, trade and investment, and foreign policy co-operation. Over the last year the Prime Minister David Cameron, the Foreign Secretary William Hague and Foreign Office Minister Alistair Burt have all visited the UAE. As have the Chancellor of the Exchequer and the UK's Secretaries of State for Defence, Development, and Energy. The Prime Minister has also hosted His Highness Sheikh Mohammed bin Zayed, Crown Prince of Abu Dhabi, and His Highness Sheikh Abdullah bin Zayed, Foreign Minister.
The UK-UAE Taskforce was established in July 2010. It has already established a CEO Forum to strengthen commercial links and encourage the growth of business between the two countries; held a joint Development Seminar which focussed on international aid and allowed the countries to share best practice and potential ideas for collaborative engagement; signed an important agreement on nuclear cooperation in November 2010; and lifted visa requirements for holders of Diplomatic and Official passports when traveling on official business.
Published 29 July 2012