World news story
The UK – a partner for Morocco
Op-ed by British ambassador to Morocco, Clive Alderton, on the relationship between Morocco and the UK published by Le Matin (French daily).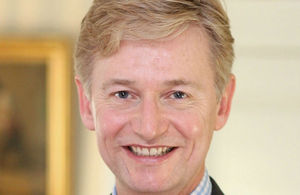 There are few jobs which could have tempted me away from my last one, as Private Secretary to HRH The Prince of Wales, Prince Charles. But when, after nearly seven years at the Palace in London, I was offered the opportunity to become British Ambassador to Morocco I jumped at the chance. Why? Because this is a country which matters; whose voice is heard and whose advice taken seriously. As a fellow member of the UN Security Council the UK saw this particularly clearly last year when Morocco played a vital role in the Security Council's deliberations, culminating in your Chairmanship in December. Morocco was right to use her Chairmanship to draw the international community's attention to threats to international peace and stability emanating from the Sahel. The Conference of the Friends of the Syrian People, which the Moroccan Government organised in Marrakech in December, led to one of the most significant diplomatic advances on the last year: the recognition of the Syrian opposition, offering new hope of hastening an end to the current suffering of the Syrian people.
It is not just at the "top table" in New York that Britain and Morocco are working shoulder-to-shoulder. The relationship between our two countries stretches back nearly a millennium. We have much in common and are thus natural partners. We are both maritime trading Nations. Our prosperity and influence is founded on the development of our domestic economies as regional hubs – London Heathrow Airport and Casablanca Airport are both the busiest and most connected in their respective regions.
We are both Monarchies. I had the great privilege in my last job of seeing at first hand the warm friendship between our two Royal Families, when I accompanied Prince Charles on his visit to Morocco in 2011; at Prince William's wedding in Westminster Abbey later that year when Lalla Salma represented His Majesty; and during the celebrations of our own Queen's Diamond Jubilee last Summer when Lalla Meriem attended events at Buckingham Palace and Windsor Castle. Indeed, when change swept across the Middle East and North Africa in the Spring of 2011 and the United Kingdom had to decide whether to postpone Prince Charles's visit the answer was never in doubt: the Royal Visit went ahead exactly as planned.
Morocco needs no lessons from the UK in pursuing the reforms which have been underway for more than a decade and have accelerated since 2011. Along with Britain you are one of the oldest countries in the World and you lack neither wisdom nor courage. But, where we have experience or expertise which may be useful, Britain is proud to be sharing them with you as a partner and as a friend. One of my first official engagements in Rabat, on taking up my Ambassadorial appointment, was to deliver a speech in the Parliament to launch a project to help young parliamentarians and female MPs contribute even more effectively to democratic debate. We are also proud to be helping train Moroccan journalists; strengthening wider democratic participation; increasing public transparency; and supporting the fight against corruption. The British Embassy is funding ten projects in these areas in 2013 from a Partnership Initiative which my Foreign Minister, William Hague, launched during a visit to Rabat in 2011 and under which will have spent more than 1.5bn DH across this region by 2015.
As the world's economy falters it is natural for friends to look to each other for imaginative projects which will benefit both parties. Here, too, Britain and Morocco are working closely together -though it is my personal ambition that we do much more. In areas ranging from renewable energy to financial services and to infrastructure, UK companies have the expertise, experience and innovation to help deliver Morocco's ambitious projects. The London 2012 Olympics were not just a fantastic sporting celebration – they were also a tribute to the British companies which delivered the greatest show on earth on time and on budget. The challenge is to make even more connections between British and Moroccan companies, and to persuade British companies that in spite of historical and linguistic differences, Morocco is open for their business. That is why the British Prime Minister David Cameron has appointed a senior British business leader, Lord Sharman, as Trade Envoy for Morocco. Morocco is one of only a handful of key markets selected to have a personal UK Trade Envoy of this sort – a measure of the importance we attach to strengthening our commercial relationship. To take just one specific example, London is the world's pre-eminent financial centre so it was natural that a partnership was signed last October between Casablanca Finance City and City UK. I will be working to secure more successes like this.
Ambassadors are known as great talkers, so we are well placed to understand the importance of effective communication in promoting trade, managing international relations and expanding academic understanding. That is why Britain is working closely with Morocco in delivering the highest quality English Language Training. It is my ambition that by the time my mandate here ends we will have dramatically increased the number of Moroccans able to communicate in my mother tongue, from primary school children through University students and right to the heart of the business, academic and government communities. Working together and with valuable support from organisations such as the British Council, I believe we can achieve remarkable results in adding English to the range of languages Moroccans speak. This will also be appreciated by the growing numbers of British tourists who visit Morocco – another of the bridges between our countries.
It is not just in bilateral contacts that I will be looking for new ways for Britain and Morocco to cooperate for mutual benefit. As a member of the UN and the EU, the United Kingdom is proud to be contributing to UN and European development projects across the length and breadth of Morocco. We are a consistent and vocal advocate of free trade and open markets, so we look forward to the launch next month of negotiations for a Deep and Comprehensive Free Trade Agreement between the EU and Morocco. We have also just taken over the Presidency of the G8 group of Developed Countries. This Presidency gives us leadership of the 'Deauville Partnership' between the G8 developed nations and the countries of North Africa and the Middle East. My Prime Minister, David Cameron, has announced that we will use our Presidency to focus on supporting the private sector across this region in response to the current serious international economic challenges. Our initiatives include a priority focus on investment; practical support for small businesses through experienced mentoring; and encouraging women's economic participation. In all of these areas of cooperation, Britain is fortunate to have the benefit of the advice and tireless work of Morocco's own Ambassador to the United Kingdom, Lalla Joumala.
There is no lack of opportunity for Britain and Morocco to work together. My time in Morocco is set to be busy and, I know, both professionally and personally fulfilling as I come to learn more about the values and culture of this beautiful country which, as my former boss The Prince of Wales said, "is at the origin of so much". When we gaze up at the great arches and trefoils of Westminster Abbey – the London church in which our Kings and Queens have been crowned for a thousand years – we know that their forms originated here in Morocco.
As our partnership and friendship enters the 21st Century I am proud and honoured to have been sent to head Britain's work here.
Published 5 April 2013