Trivia Campaign and Photo Competition winners meet the Ambassador in Egypt
The winners of the trivia and photography competitions met the British Ambassador in Cairo at his residence, on Tuesday 3 December.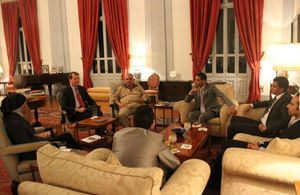 On 3 December, 2013, HMA James Watt had a drink with the winners of the British Embassy trivia campaign and International Day of Friendship photography competition at his residence. The Ambassador discussed with the winners what they like about the UK and relations between the UK and Egypt. The Ambassador also told them about the history of the residence and took them on a tour.
HMA, James Watt said "Trivia is fun. And our discussion afterwards were fun and serious. Please join in the next round".
The trivia campaign and photography competition were run on the embassy's social media platforms. The trivia campaign was run during the month of October and featured questions about life and culture in the UK. The winners were selected by choosing the most engaged users throughout the entire campaign. The photography competition was launched on the International Day of Friendship, in search of the best images by amateur photographers which demonstrated the friendship between the UK and Egypt.
See the photos
Published 10 December 2013