The search is on for top apprentices
Dounreay is looking for the next intake of apprentices.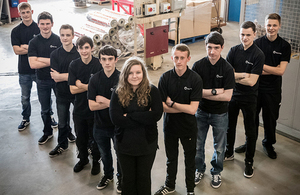 Dounreay has launched its latest search for new apprentices in Caithness - marking the 62nd year that young people will have kick-started their career at the site.
The company has a proud history of recruiting high calibre local candidates, with more than 1,000 young people joining the scheme since its launch in 1955. For the last 2 years it has taken a top prize at the annual Scottish Engineering Craft competition – bringing together the best engineering apprentices in the country. Michael Mowat was the 2016 winner with Craig Gunn taking the same prize in 2015.
Carol Robertson, Apprentice Training Manager, said:
"This is an excellent opportunity for young people to join our modern apprenticeship scheme. Those we train today will have the opportunity to be involved in some of the most exciting and technically challenging projects in the world, developing skills which are increasingly needed in many industries. It is a 4-year structured programme, combining on the job training with time at college working towards recognised qualifications."
Phil Craig, Managing Director, added:
"As I started my career as an apprentice and worked my way up, I believe this can be one of the best ways to develop our young people. Under the site's original decommissioning plan, our apprentice scheme would already have ended but I am delighted we have been able to extend it for another intake. It remains a fantastic and well supported way to start your career, developing in-demand skills."
Dounreay is the former centre of Britain's fast reactor research programme and is now carrying out a programme of clean-up and demolition work. Mechanical, electrical, instrumentation and design placements are all up for grabs, with candidates able to apply until 23 February 2017.
More information and application forms can be found on our website, www.dounreay.com or meet the team at the 'Jobs and How to Get Them' event at ETEC, North Highland College, Thurso on Saturday 4 February 2017.
Published 23 March 2017