The Rural Payments Agency's Annual Report and Accounts published
The Rural Payments Agency's 2013/14 Annual Report and Accounts was laid before Parliament today (08 July 2014).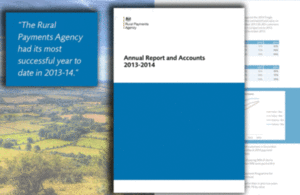 RPA chief executive Mark Grimshaw commented on the document: "The Rural Payments Agency had its most successful year to date in 2013-14. We set new records for customer satisfaction and the speed and accuracy of our payments, and we laid important foundations for the future. For example, we finished our Strategic Improvement Plan – designed to stabilise the agency – a whole year ahead of schedule.
"The scale of the RPA's transformation was recognised by the Department for Environment, Food and Rural Affairs, which announced that in future we will be the agency of choice for EU payments, and by the National Audit Office, which lifted the third and final qualification on our accounts. This shows the degree to which the RPA is trusted to deliver high quality performance on behalf of the rural economy.
"We know the coming year will be challenging as we seek to maintain our high levels of performance while preparing our people and customers for reform of CAP, but I am confident that we are in great shape to face those challenges."
Published 8 July 2014