The Rt Hon Chris Huhne MP visits Yorkshire and the North East
During a visit to Yorkshire and the North East yesterday, Secretary of State The Rt Hon Chris Huhne MP opened a programme that will create and…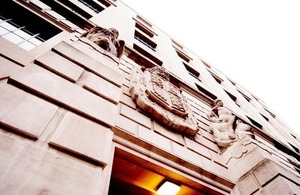 During a visit to Yorkshire and the North East yesterday, Secretary of State The Rt Hon Chris Huhne MP opened a programme that will create and preserve jobs through the delivery of energy efficiency and renewable energy projects in homes within deprived communities.
Lead by Kirklees Council, the Big Energy Upgrade - also known as the Energy Innovation for Deprived Communities (EIDC) programme - will create 114 new jobs while targeting hard-to-treat homes within a minimum of 10 of the most deprived communities across six local authorities in Yorkshire and the Humber.
While launching the £14.9m scheme at Sheffield University, The Rt Hon Chris Huhne MP said:
"Energy efficiency is a no-brainer because it makes homes warmer and cheaper to run.
"The Big Energy Upgrade is a great example of different organisations working together to help the most disadvantaged communities in Yorkshire.
"We want to see more of this collaborative working to help the effectiveness of the Green Deal when it's launched next year."
The project, which has attracted £7m investment from the European Regional Development Fund, will also focus on delivering energy efficiency measures to homes with no loft space, off gas , or those which for technical or practical reasons cannot have staple energy efficiency measures fitted.
---
MTL
Earlier in the day the Secretary of State visited metal sector contract manufacturing specialist MTL, which was recently awarded a substantial export contract to supply boat landing systems.
Following a tour of the Rotherham main facility, The Rt Hon Chris Huhne MP said:
"I am determined that the UK obtains the maximum benefits from the green economy so I was very pleased to hear of your recent export contract success, which follows your other success earlier this year.
"I am particularly impressed with the steps you have taken to bring forward the skilled staff that will be so important to us in the future."
---
Kellingley Colliery
The Secretary of State also visited Kellingley Colliery, the site of Tuesday's accident in which one miner was killed and another injured.
He said:
"Any loss of life is shocking to family, friends and workmates. It is essential that the investigation team understands what happened so that all precaution can be taken for the future.
"I was impressed by the solidarity and the determination of miners and management to ensure that the lessons are learned so that there continues to be good prospects for clean and safe British coal."
---
TAG Energy Solutions
The Secretary of State spoke about the economic opportunities offered by Teesside's renewables industry during his final stop on the visit, to open new project management company TAG Energy Solutions.
The company recently secured £20m investment to build its 'state-of-the-art' automated tubular production facilities for renewables and energy industries construction.
Published 30 September 2011