World news story
The rise of fintech in Japan
There's a new buzz word in the Japanese financial services sector and UK companies are quickly making their mark.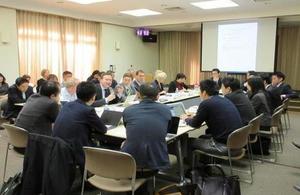 UK Trade & Investment (UKTI) Japan has recently led a range of activity around the fast emerging fintech sector. At the same time, Japan has been very receptive to its rapid development and UK firms have gained some impressive early traction in the market.
Towards the end of 2015, a series of events were held at the British Embassy in Tokyo to promote and showcase British fintech expertise. 11 companies visited the market on a week long trade mission to elevate their profile and connect with potential Japanese partners.
Top themes
A number of themes emerged as a result of these events:
the emergence of a collaborative fintech eco-system in Japan which is bringing disruption to major institutions such as the traditional banks
start-up culture is having a big impact and gaining traction by partnering with large companies to bring change and innovation
London is viewed as the world-leading centre for financial services and is driving forward progressive innovation in fintech - Japan is clearly receptive of this
the opportunities for collaboration between the UK and Japan are great
Japan is a pioneer of mobile networks and has the highest growth of software development engineers in the world
Opportunities for UK companies
The UK's advanced technologies in the financial business arena have been well recognised in Japan. Although Japan's banking sector remains very traditional, the penetration of smartphone use has brought a whole new model to work with. This is something which could not be ignored and has created a need for new and efficient solutions.
British companies have established themselves at the forefront of developing new technologies to match these ever-developing platforms. As a result, Japanese firms are deeply interested in working with them. With major sporting events on the horizon such as the Rugby World Cup in 2019 and Olympic Games in 2020, Japan's banking systems are feeling the pressure to get up to international speed.
Next steps
Contact our team for dedicated support and advice on market entry in the fintech sector.
Read more about the experience of the UK delegation during our recent fintech trade mission to Japan.
Learn from our senior trade adviser in Japan about what is happening in the fintech industry.
Published 7 March 2016