The Rehabilitation Revolution - next steps
The next step in the Rehabilitation Revolution will see Justice Secretary Chris Grayling today talking with business leaders, voluntary and …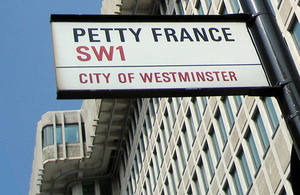 The next step in the Rehabilitation Revolution will see Justice Secretary Chris Grayling today talking with business leaders, voluntary and community sector providers and the public sector Probation Service to discuss his plans.
He will set out the important role he expects them to take, and how we will work together, in a radical package of reforms to be set out in a consultation in January.
The reforms will include:
greater use of competition to drive value and ensure taxpayers' money is invested in services that work;
a far greater role for the private and voluntary sector to draw out the best of all sectors, bringing innovation to rehabilitation;  
an essential role for the public sector so they bring their expertise and knowledge to managing our most serious and dangerous offenders and;
an intention to legislate so short custodial sentences given by the courts will in future include a period of rehabilitation on release, addressing the gap in the criminal justice system where those serving under 12 months are released with no supervision or support.
Justice Secretary Chris Grayling said:
'Reoffending rates are too high with almost half of all prison-leavers reconvicted within a year.
'We need to reform the system and change the way we rehabilitate offenders. And we must give the right people the right tools to do it.
'Today's discussions are an important step towards delivering wholesale reforms so we can help break the depressing cycle of crime that too many offenders are trapped in.
'Our plans in the New Year will ensure all of those sentenced to prison or probation are properly punished and incentivised to turn away from crime.'
To help support the proposed reforms, Government will be launching a nationwide 'Justice Data Lab'. Organisations working to rehabilitate offenders at a local level will have access to high-quality re-offending data specific to the group of offenders they have been working with. This will allow them to focus only on what works, better demonstrate their effectiveness and ultimately cut crime in their area.
We will also be providing £500,000 to voluntary and community sector groups to ensure they are ready to begin bidding for services.
This follows reforms to community orders so each one contains an element of punishment and an increase work in prisons so offenders have a greater chance of finding employment on release.
Notes to editors:
View a copy of the previous consultation document 'Punishment and Reform: Effective Probation services'.

Read further details on our community order proposals.

Read further details on our work in prisons programme.
Published 18 December 2012