World news story
The Red Arrows Visit Kuwait
This was published under the 2010 to 2015 Conservative and Liberal Democrat coalition government
Her Majesty's Ambassador, Mr Frank Baker OBE is proud to receive the Royal Air Force Red Arrows in Kuwait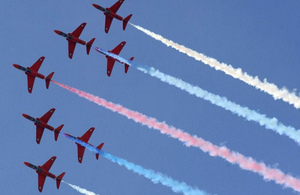 On the anniversary of the State visit of His Highness the Amir of Kuwait to the United Kingdom, the world's premier aerobatic display team, Britain's famous Red Arrows, will perform a low-level Flypast over Salwa Palace in honour of the Amir, followed by a display over Marina Mall for the people of Kuwait at 1500 hrs on Tuesday 26th November 2013.
Officially known as the Royal Air Force Aerobatic Team, the Red Arrows have flown over 4,000 displays in 52 countries since the Team's creation in 1965. The Red Arrows' famous nine aircraft formation was not officially used until 1968. Although there was nothing new in flying nine aircraft in a diamond-shaped formation, the Red Arrows' perfectly symmetrical Diamond Nine quickly came to represent the peak of precision flying and it was eventually registered as an official trade mark.
Today, the Red Arrows are renowned throughout the world, acting as ambassadors for Great Britain when displaying overseas. They also support UK industry by demonstrating the capabilities of British equipment and expertise. This year, the Team has conducted a Middle East tour of GCC countries and performed daily as the showcase display team at the 2013 Dubai Air Show.
Squadron Leader Jim Turner, Team Leader of the Red Arrows, said:
It is a huge honour and privilege to have been invited to the Middle East and have the opportunity to perform our display in so many wonderful locations. We take great pride and pleasure in being able to demonstrate our flying in all of these places – some of which we have never visited before, while others we are very pleased to be afforded the opportunity to return to.
Document information
Published: 26 November 2013