The Queen's visit to the Sheikh Zayed Grand Mosque
Her Majesty The Queen visited the Sheikh Zayed Grand Mosque in Abu Dhabi on 24 November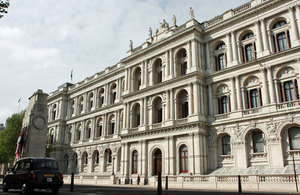 Her Majesty Queen Elizabeth II and His Royal Highness The Prince Philip, Duke of Edinburgh, visited the Sheikh Zayed Grand Mosque this evening. They were accompanied by His Highness General Sheikh Mohamed bin Zayed Al Nahyan, Crown Prince of Abu Dhabi and Deputy Supreme Commander of the UAE Armed Forces. They were welcomed by Dr Ali bin Tamin, Chairman of the Grand Mosque.
This highly symbolic visit, the first event of Her Majesty's programme in the UAE, saw Her Majesty pay her respects at the Tomb of His Highness Sheikh Zayed bin Sultan Al Nahyan, the founding father of the UAE. It was the Late Sheikh Zayed who hosted Her Majesty on her visit to the UAE in 1979.
Her Majesty met three madrassa groups inside the Mosque and listened to the children reciting the Quran.
This visit by the Head of the Church of England to the Sheikh Zayed Grand Mosque is reflective of the multi-faith dialogue and tolerance that is common to both the UAE and UK.
Published 24 November 2010