The Queen's Baton message as delivered by HRH The Prince of Wales at the Commonwealth Games
HRH The Prince of Wales and The Duchess of Cornwall attended the opening ceremony of the Commonwealth Games in New Delhi.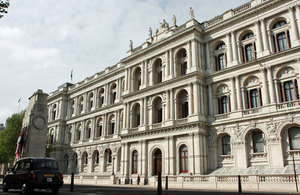 "Madam President and Dr. Shekhawat, Prime Minister, Distinguished Guests, Ladies and Gentlemen,
My wife and I are so pleased to be able to join you here in Delhi where I have been asked by The Queen to represent Her Majesty at this splendid Opening Ceremony for the nineteenth Commonwealth Games.
The Queen has asked me to convey the following message:
Just under a year ago, at Buckingham Palace, I placed this message in the Baton which then began its long journey to the opening ceremony of the nineteenth Commonwealth Games in Delhi. On its way, it was carried by relay runners through all the territories of the Commonwealth as an invitation to participate in these Games.
It is particularly fitting that the 2010 Commonwealth Games are being held in India. Recently we have celebrated the Sixtieth Anniversary of the London Declaration, when Indian Independence brought into being the modern Commonwealth of Nations. Since then it has grown from just eight member countries to its present membership of fifty-three, represented here today by the seventy-one Commonwealth nations and territories participating in these Games. I firmly believe that when countries can compete in sport together like this, it serves as an inspiration to all nations to work together for peace throughout the world.
These Games, with their festival of sport and culture, involving the youth of the Commonwealth, would not be possible without the efforts of so many people, in India and beyond, and without the participation of so many teams, the dedication of so many athletes, and the involvement of so many voluntary officials. To them all, and to all spectators, I send my very best wishes for what I hope will be the experience of a lifetime.
Madam President, Ladies and Gentlemen, I have much pleasure in declaring the nineteenth Commonwealth Games open."
Published 3 October 2010