World news story
The Queen and Pope Francis
This was published under the 2010 to 2015 Conservative and Liberal Democrat coalition government
Her Majesty Queen Elizabeth II meets Pope Francis at the Vatican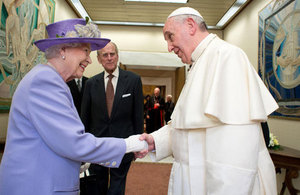 On 3 April 2014, Her Majesty Queen Elizabeth II and His Royal Highness The Duke of Edinburgh had a private Audience with His Holiness Pope Francis in Pope Francis' study adjacent to Paul VI Hall.
The meeting was official but informal, and afterwards The Queen and the Pope exchanged gifts.
In keeping with the personal nature of the meeting, The Queen and the Duke of Edinburgh gave the Pope a hamper of produce from the Royal Estates, chosen personally by Her Majesty. Her Majesty and His Royal Highness also gave His Holiness two signed silver framed photographs.
Pope Francis presented The Queen with a framed reproduction of the decree from 1679, extending the devotion of Edward the Confessor (as a saint) to the whole Catholic Church; silver desk-top St Edward the Confessor cross (as appears on the Coronation Crown), on a lapis lazuli globe, engraved "Pope Francis to His Royal Highness Prince George of Cambridge", and three commemorative Papal medals in gold, silver, bronze.
After the Audience, the British Ambassador to the Holy See Nigel Baker said:
I felt privileged to be a witness to today's encounter. Today, we saw an informal, warm, spontaneous, personal meeting, an expression of the deep mutual respect between the Papacy and the Monarchy, Britain and the Holy See, Pope Francis and The Queen.
This visit of Her Majesty The Queen to the Vatican, and the audience with Pope Francis, is a reaffirmation of the strength of the bilateral relationship between the United Kingdom and the Holy See in a year in which we celebrate the centenary of the re-establishment of diplomatic relations.
This was The Queen's fifth meeting with a Pope at the Vatican, and the seventh overall. Previous meetings were in:
1951 (as Princess Elizabeth) with Pope Pius XII
1961 with Pope John XXIII
1980 with Pope John Paul II
1982 in the UK, with Pope John Paul II
2000 during Year of the Great Jubilee, with Pope John Paul II
2010 in the UK, at Holyroodhouse in Scotland, with the State Visit of Pope Benedict XVI
Blog: Queen Elizabeth II meets Pope Francis