The Pupil Premium Awards 2013
The 2013 Pupil Premium Awards, announced by the Deputy Prime Minister, will celebrate the success of schools throughout England.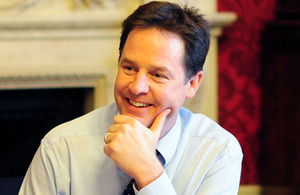 Awards of up to £10,000 will be given to schools that can demonstrate how they have made best use of the Pupil Premium to support disadvantaged pupils.
The best schools in every English region will gain recognition, and regional winners will be invited to a reception in London, where the overall prizes will be announced. Judging will be by an independent panel of education experts. Any school in England can nominate themselves, but the information detailed in these pages will help you to decide whether or not you would like to apply.
The 2013 Pupil Premium Awards are being delivered in partnership with TES: application details are available on the Pupil Premium Awards website. The closing date for entries is 17 April.
Published 4 April 2013