News story
The Prince of Wales and Eric Pickles launch Industrial Cadets scheme
New scheme will give young people the chance to develop employability skills and gain experience in the industrial and engineering sector.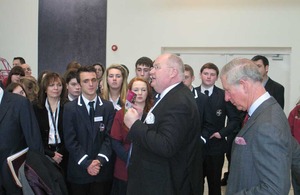 A new scheme to raise the aspirations and develop the employability skills of young people by exposing them to career opportunities in local industry was launched today (21 January 2013) by His Royal Highness the Prince of Wales and Communities Secretary Eric Pickles at the Jaguar Land Rover plant in Halewood, Liverpool.
Inspired by the Prince of Wales, the Industrial Cadets scheme offers students aged 12 to 14 in 6 areas across the country a unique programme of activities including 'hands-on' project work, mentoring and company visits to build awareness of their local manufacturing industry and future career opportunities. The experiences gained on the scheme, which is being backed today by funding provided by the Department for Communities and Local Government, are designed to help young people develop important skills and abilities such as creativity and innovation, critical thinking and problem solving, digital skills, and personal development.
Following a tour of the plant with His Royal Highness, Mr Pickles met new cadets taking part in a schools technology challenge class.
Industrial Cadets is being implemented by the Engineering Development Trust, the largest provider of science, technology, engineering and mathematics activities for young people and a further aim of the scheme is to increase levels of interest in these subjects by targeting pupils of pre-GCSE age (13 to 14-year-olds).
Britain is today in a global race and needs to re-balance its economy towards more advanced manufacturing, an essential driver of future growth. It is imperative therefore that a larger proportion of students are encouraged and motivated to study these key subjects and follow careers in industry.
Communities Secretary Eric Pickles said:
"The industrial and engineering sector is crucial to the economy of our country so it's fantastic that the Industrial Cadets programme can inspire the engineers, manufacturers and industrial workers of the future.
"By generating enthusiasm and encouraging young people to think about a career in this area at an early age, we can attract new talent and raise aspirations amongst students for their future vocation.
"Not only can they learn and develop valuable skills and gain excellent practical experience, but they can also increase confidence, communication skills and develop future career opportunities whilst having fun at the same time.
"Industrial Cadets can enable industry to have a real presence in our schools and get young people excited about working in this area in the future."
Further information
The Industrial Cadets scheme was inspired by His Royal Highness the Prince of Wales following a visit to Tata Steel in Redcar in 2010.
The scheme is being implemented by the education charity Engineering Development Trust, that works to promote science, technology, engineering and maths (STEM) subjects and careers to children and young people aged 11 to 21.
Industrial Cadets is to be piloted in 6 areas across the country:
Middlesbrough and Scunthorpe
Derby
Bristol
Coventry
East Lancashire
Stoke and Burslem
A student becomes an Industrial Cadet through their school, which will be encouraged to have an Industrial Cadet link with a local business. In the future Industrial Cadets could also be available through a variety of youth organisations.
In addition to Jaguar Land Rover, a number of leading industrial and engineering firms are signing up to run the Industrial Cadets programme and they will be announced over the coming months.
Published 21 January 2013
Last updated 21 January 2013
+ show all updates
Changed photo.
This news article was converted to a news story