World news story
The Philippines celebrates the Queen at 91
Transcript of HM Ambassador, Asif Ahmad's speech during the Queen's Birthday Party in Manila.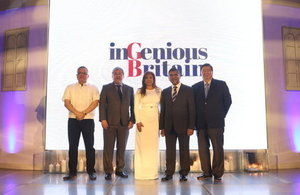 Your Excellencies, members of government, distinguished guests, it is great to see so many of you here tonight.
Magandang gabi po sa inyong lahat. Maligayang pagdating sa kaarawan ni Reyna Elizabeth.
This is the 4th time the British School Manila has allowed us to hold our Queen's Birthday Party. Thank you very much for giving us the freedom to transform this hall again. I promise we will clear everything up by tomorrow. Can I also say maraming salamat sa mga estudyante sa Purple Center Foundation school sa Tondo. This is a venture that is backed by a British charity. Children who lived near the Smokey Mountain dumpsite were given a chance to change their lives through education and better welfare. The school began in converted containers. I first visited the container school in 2004. Since then, I have been to the purpose built school many times. And as the original community is partly dispersed, the work of the Purple Centers continues in other places too. The children who sang for you today have been at our Residence every Christmas. I have seen them grow and bloom. If you want to be inspired look no further than these wonderful young friends of mine.
You have said many kind things about how well Britain is doing in the Philippines.
You also just saw a video which was a highlight of many of the achievements of my fantastic team in the British Embassy.
So tonight, instead of looking back, join me in a journey of imagination. Let's look forward.
Our theme tonight is InGenious Britain.
I want to share with you what sort of world we want to live in. How our country will play its part in shaping the future. I am also inviting you to imagine a future vision of the Philippines. This is of course of vital interest to all our dear Filipino friends. But the future of the Philippines is also important to the UK. When we return to the Philippines, in the years to come, I will be an ordinary citizen.
We will be enjoying the pursuits that so many retired people experience in Britain and the Philippines. In my imagination, I see us arriving in a transformed Manila airport. We will use a new runway, based on the ingenious British idea.
This is a single extended runway that planes use for both landing and takeoff. Our electric powered taxi will take the Laguna lakeshore highway. We will be home under an hour after leaving the airport. The jeepneys I will see on the road will still be as colourful as they are now but they will be safer and they won't be smoke belchers. The Philippines will be a pioneer for pollution control with a visible shift to a green agenda.
We will want to connect with family and friends all over the world. We will choose whether to sign up to a British internet service provider based in the Philippines or a Filipino one. Both delivering the fastest broadband speed in the world. Perhaps, the one I will choose will have 3 dimensional virtual reality too. My favourite sports will be broadcast live through a reliable British satellite hovering over Philippine air space. The same satellite that will connect rural Philippines to the rest of the world.
In my local market, we will be overwhelmed with choice. Fresh fruits and seafood delivered in a seamless cold chain from Bicol. British beef and lamb will be available once again. In my local bar, alongside Scotch whisky, I will see British draught ale. Served at the right temperature with no ice in the glass.
From the time of the first steam locomotive, we have taken railway mania to all parts of the world. In fact, we built the first railways in the Philippines. I look forward to taking the subway from Makati to Quezon City. The new trains, supported by British technology, will be reliable. The journey will take no more than 20 minutes. I might even hear the familiar message on the platform-Mind the Gap-ingat ka.
When I want a holiday break from the city, I will head for Marawi in Bangsamoro. In my resort in Lake Lanao, I will be woken by the sound of the call to prayer by the local imam.
Just a little later, Sunday Mass will observed at Marawi's St Mary's Cathedral. The voices will sing Buksan ang Aming Puso. This will be the answer to those who challenge our freedom, our values and our ways of life. We shall overcome.
When I go to Palawan, I will want to gaze at the sunset and wonder at the natural beauty of this land. The only artificial construct my eyes will accept will be the distant flame. This will be the man-made flame from the next generation of Filipino gas platforms built with long standing British partners. The rest of the waters in your exclusive economic zone will be for marine life and for innocent passage by air and sea.
At this wonderful school, British School Manila, I have attended a number of graduation ceremonies. I long for the day that I can witness graduation ceremonies of British universities on campuses all over the Philippines. Like your neighbours in China, Vietnam and other ASEAN countries, Filipinos will be able to enjoy international education closer to home. More than 300 Chevening and Newton Agham Scholars we have sent to the UK have already proven that Filipino students are top notch performers.
I hope I will be allowed to contribute again to the work of charitable organisations, especially the ones that support the health and welfare of vulnerable children.
As one of the Trustees of the Child Protection Network, our dream is to open a centre for distressed children in every Provincial General Hospital. I also hope that there will be opportunities to do even more for the community through the CSR programmes of British companies in the country. So many of you here are involved in service to your community to build a better future. Together, we will do more to improve the health and welfare of children, mothers, the elderly, people with disabilities and mental health problems.
If I am invited to the Queen's Birthday Party in Manila in 2022, I wonder what I will hear our ambassador say about Britain. The ambassador will talk about the United Kingdom being at the heart of Europe even though we will no longer be a part of the European Union. Britain will still be open for business and there will be even more Filipino investment, especially in venture capital for new discoveries.
Our outlook will continue to be global. Britain will be better equipped to meet security challenges. Our commitment to development assistance for the poor or for victims of natural and man made disasters will be strong.
The Ambassador will say, we were right to identify the Philippines as an emerging power back in 2011. The Philippines will have strong inclusive growth and better infrastructure. An open economy providing jobs for both Filipinos and foreigners who have chosen to make the Philippines their home.
The Ambassador will thank the Filipino community in Britain for their contribution to Britain's prosperity. She, will do what I have done every year and say maraming salamat sa mga kaibigan natin sa Pilipinas. Thank you for looking after our citizens in the country. Thank you also for bringing joy to our lives.
I have set out a vision for the future. This is not a flight of fantasy. Everything I have said is reachable. All you need is belief and determination. Remember the words of John Lennon's song Imagine. You may say that I'm a dreamer but I am not the only one. I hope someday you'll join us and the world will be as one.
And with the words of that special song ringing in our ears….
Please join me in a toast on Her Majesty's Official Birthday
Mabuhay ang relasyon sa pagitan Pilipinas at Great Britain!
Published 19 June 2017