Press release
The pension revolution starts here – first day of automatic enrolment
The biggest change in pensions for over a hundred years - automatic enrolment - starts today.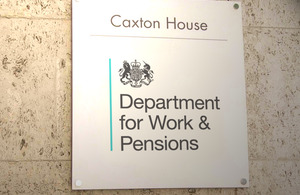 The biggest change in pensions for over a hundred years - automatic enrolment - starts today (Monday).
Starting with the largest firms in October, employers will now be required by law to pay into a workplace pension for staff who do not opt out.
By the end of the year, around 600,000 more people in the UK will be saving into a workplace pension and by May 2015 about 4.3 million people will be saving for their old age.
Steve Webb, Minister for Pensions, said:
We are proud to be introducing this truly historic change, which will radically alter the way we save for our old age, and see millions more people putting something aside for the future.

From October, we will start seeing large firms, such as banks and big supermarkets, automatically enrolling their staff into a workplace pension. Between now and 2018, more and more employers will come on stream - right down to the smallest ones.

If we can get between 6 and 9 million more people saving in a pension by the time all employers are in, that's a genuine savings revolution.
Key facts about automatic enrolment:
Around 11 million people are not saving enough to achieve the pension income they are likely to want or expect in retirement, and less than 1 in 3 adults are contributing to a pension, while people are on average living longer - in the past 25 years, life expectancy at age 65 has increased by 5 years for men and 3 years for women
Evidence from the Department for Work and Pensions suggests that, once automatically enrolled, less than one-third will take the active decision to opt-out1
In the United States, case studies show automatic enrolment dramatically increased membership of similar schemes among new employees
The employer is also compelled to provide a minimum level of contributions. Minimum contributions start at 1% and by October 2018 build to 4% for employees which equates to 8% overall (employer at 3%, employee at 4%, and tax relief at 1% combined) of a band of earnings
Notes to editors
Bourne, T., Shaw, A., and Butt, S., 2010, Individuals' attitudes and likely responses to the workplace pension reforms 2009: Report of a quantitative survey. DWP research report 669.

Anyone over 22 years old, currently earning over £8,105 and working for an employer who is affected, will be automatically enrolled
A new advertising campaign has been launched on TV, radio and across national and trade media to raise awareness of automatic enrolment among individuals and employers.
Published 1 October 2012