World news story
The Pen Strikes Again
The UK strengthens its education partnership with Lebanon to support the goal of Education for All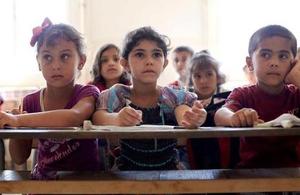 In support of our continued commitment that no child should miss out on their education, the UK increased its funding to up to $31 million for education in Lebanon this year in preparation for school enrolment in September bringing the UK's overall total support to Lebanon over $315m. This was announced by the UK's Development Secretary of State, Justine Greening, as part of a wider approach by the UK Government to provide even more support to Syria and its neighbours – for which she announced an additional $157m last week. The new education funding will help ensure that both Lebanese and refugee children have access to school and receive a quality education, a down payment of hope in Lebanon's future. In a telephone conversation with Education Minister Elias Bou Saab, British Ambassador Tom Fletcher reiterated the UK's continued support to Lebanon in the field of education.
Commenting on the new announcement, Ambassador Fletcher said: 'I am delighted that the extra $157m in UK aid to the Syria crisis includes an increase of $31m for vital education in Lebanon. This is an endorsement of the admirable vision we have seen from the Lebanese Government so far on education – and we want to encourage this to continue. We hope this will enable access to an extra 100,000 Syrian children, as well as many more poor Lebanese students'.
This announcement coincides with the Oslo Summit on Education for Development.
Notes to editors The education funding for Lebanon includes new support for the Lebanese Government's 'Reaching All Children with Education - RACE' scheme, to expand the public education system. This programme will benefit Lebanese students and the Lebanese education system as a whole as well as granting access to Syrian children.
Published 6 July 2015