World news story
New visa application centre in Kuwait opens on 30 October
The UK's new visa application centre in Arraya Tower will officially open its doors on 30 October, offering excellent facilities for applicants.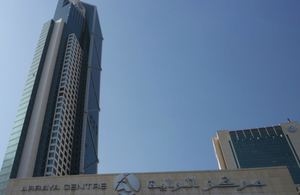 From Sunday, 30 October, anyone requiring a visa to visit the UK will need to attend an appointment at the new VFS application centre, at level 30 of Arraya Tower, Al Shuhada Street, Al Asimah Governate, Kuwait City. The centre in Al Tijaria Tower will no longer operate as a visa application centre from 30 October.
In light of feedback from customers, the new centre offers on-site parking, and is conveniently located next to the Marriott Courtyard Hotel, with easy access to the Mall.
Following the successful introduction of electronic visa waivers for Kuwaitis, which are completed online with no need to attend a visa application centre, almost 68,000 Kuwaitis have opted to use the new system. Building upon this success, the British Embassy with our local partner VFS, continue to work together to deliver the best possible service to the people of Kuwait.
For those applying for visas, we offer a range of additional services, including options for faster processing, greater flexibility, and assistance with applying. Details of these services are available on the VFS website
Published 25 October 2016