News story
The Magna Carta Fund for Human Rights and Democracy
The Magna Carta Fund is the FCO's dedicated strategic fund supporting our global human rights and democracy work.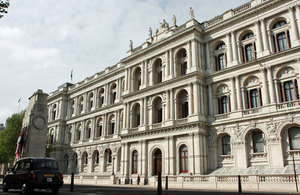 The Fund is launched on 18 January 2016 by FCO Minister Baroness Anelay which aims to further British interests overseas by tackling the root causes of human rights violations, strengthening institutions and governance, promoting and protecting human rights, and supporting democracy and the rule of law.
The Fund has three priority themes:
Democratic values and the rule of law - Uphold universal rights, democracy and the rule of law as key building blocks for more secure and prosperous societies;

The rules-based international order - Support an effective rules-based international order that stands up for universal rights;

Human rights for a stable world - Promote a more stable world by upholding universal rights in tackling conflict and extremism.
The British Embassy Kabul is now inviting project bids for financial year 2016/17. All projects must be completed by 31 March 2017.
Project bids will be assessed against the following criteria:
Value for money;
Alignment with the Magna Carta Fund Human Rights and Democracy Strategy and the FCO's Foreign Policy Priorities;
Evidence of local demand or need;
Project viability, including capacity of implementing organisation;
Project design, including clear, achievable impact;
Risk and stakeholder management;
Sustainability.
For further information on the fund and how to apply (including the proposal forms), please see https://www.gov.uk/guidance/human-rights-and-democracy-programme.
Project concept forms related to Afghanistan should be submitted to the British Embassy Kabul by 11 February via mailto:MagnaCarta.BEK@hotmail.com.
Published 25 January 2016