World news story
The Lord Mayor of the City of London visits Kuwait and presents a Mansion House Scholarship
The Lord Mayor of the City of London visits Kuwait on 20 and 21 October 2013 and presents a Mansion House Scholarship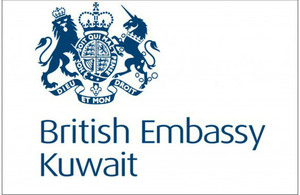 The Lord Mayor of the City of London Alderman Roger Gifford is visiting Kuwait on 20 and 21 October. The Lord Mayor will be meeting with top Kuwaiti officials and Ministers to discuss issues of bilateral interest and to enhance still further the excellent business and investment relationship.
As the representative of London's prestigious and ancient 'City' – and the beating heart of the country's financial sector – the Lord Mayor will be primarily focused on commercial and investment relationships. Kuwait has a long history with the City of London, particularly through the Kuwait Investment Office, based in the City, which recently celebrated its fifty year anniversary. Similarly British banking institutions such as HSBC have long operated in Kuwait. During his visit the Lord Mayor will be exploring how to deepen these ties, and how the UK and UK businesses and institutions can support Kuwait's stated aim to become a financial hub and the country's ambitious development plan.
The Lord Mayor will also be presenting a Mansion House Scholarship to a Kuwaiti scholar. This is the first ever time this prestigious award has been given to a Kuwaiti.
The Scholarship Scheme exists to fund scholarships for the brightest and best students and young business executives from overseas to travel to the United Kingdom to study or to undertake training or work experience in London's world-leading Financial Services Sector. The Scheme is administered as a Charitable Trust, with an independent Chairman and four appointed Trustees. The selection of scholars remains in the personal gift of the Lord Mayor of the City of London and those awarded scholarships are known as Mansion House Scholars.
This year Mr Mishari Al-Jassim from Kuwait will be appointed as a Mansion House Scholar. Mr Al-Jassim is aged 29 and works for the Ahli United Bank in Kuwait City, where he has been employed since 2007. He is now a Senior Dealer on one of their Treasury Trading Desks. Mishari is the first Mansion House Scholar ever to have been selected from Kuwait and one of thirteen scholars to have been appointed by the Lord Mayor this year.
Published 21 October 2013