World news story
The Lord Mayor of the City of London visits Hong Kong
The Lord Mayor of the City of London, Dr Andrew Parmley, visited Hong Kong from 16-19 February.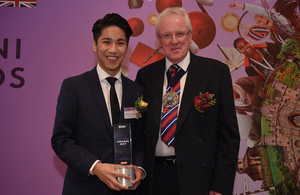 The Lord Mayor Dr Andrew Parmley paid an official visit to Hong Kong to reinforce the message that the City of London remains the world's leading financial centre and destination for foreign direct investment into Europe despite the outcome of the EU referendum. Throughout his visit, the Lord Mayor also emphasised that London and the UK continue to be the global partners of choice for Hong Kong and mainland China for financial and professional services; and London remains the leading western hub for the RMB market, playing a major role in supporting the internationalisation of the RMB alongside other key centres such as Hong Kong.
During his visit, the Lord Mayor met key representatives from Hong Kong Monetary Authority, Hong Kong Exchanges and Clearing, the Financial Services Development Council and Office of the Commissioner for Insurance as well as British and local businesses and professionals to discuss issues including the development of offshore RMB market, cyber-crimes, carbon disclosure, green finance and financial technology. He attended a UK Alumni Awards ceremony organised by the British Council, and shared his views at an education panel discussion on skills for employability to promote UK as a higher education destination of choice.
Further information
Published 17 February 2017