World news story
The Lord Mayor of the City of London speaks about growing UK-Zambia business links
Speaking at the Standard Chartered Bank sponsored Business Breakfast in Lusaka on 25 February 2016, Lord Mayor Jeffrey Mountevans, said: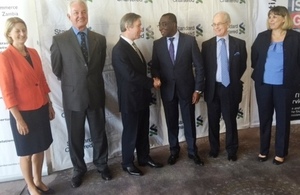 "Leading UK companies like Standard Chartered already have an established presence in Zambia. A UK Trade and Investment office opened in Lusaka in September 2014, followed a few months later by the launching of the British Chamber of Commerce; both of these new resources should help to create more precious business links.
"But there exist so many more opportunities for the UK to explore, in sectors like renewables, agriculture, healthcare and education, training and qualifications."
The Lord Mayor said the interaction with the British Chamber of Commerce will present him and his delegation with an opportunity to get a better understanding of the business environment in Zambia.
Speaking at the same event, Chief Executive Officer of Standard Chartered Bank Zambia, Andrew Okai, said that his Bank is proud to be one of the founding members of the British Chamber of Commerce in Zambia.
He said such forums serve to enhance trade promotion between Zambia and the UK. Mr. Okai said that the Lord Mayor was visiting Zambia at an opportune time when positive measures are being made to diversify the economy. Mr. Okai said, "Whilst 2015 was a challenging year for both the global and local economy, Standard Chartered is confident that economic recovery and growth will return. Zambia remains an attractive destination for foreign investment."
Further details
• The Lord Mayor of the City of London, Jeffrey Mountevans, is to lead a business delegation to Lusaka (25-27 February) helping to make sure London and the UK remain the regional partner of choice when it comes to financial and professional services.
• The Lord Mayor is head of the City of London authority for one year and the position is unpaid and apolitical. It is an exceptionally demanding role. The Lord Mayor spends some 90 days abroad and addresses some 10,000 people face-to-face each month (making around 800 speeches a year).
• The Lord Mayor represents City businesses and helps the City Corporation advise the Government of the day on what is needed to help the financial services sector to function well. The Lord Mayor frequently travels to represent the City; and travels overseas with the status of a Cabinet Minister.
• The Lord Mayor meets several international Heads of Government and Business each month to discuss financial services, often in conjunction with senior City business representatives. The Lord Mayor lives in the Mansion House for the Mayoral year.
• The British Chamber of Commerce (BCC) is an independent, not-for-profit organization incorporated in Zambia in August 2014. Membership is open to British, Zambian and international companies with a common interest in developing business in the UK and Zambia, as well as to other organisations and individuals. The Chamber's core objective is to promote trade and commercial relations between Zambia and the UK.
For further information, please contact the following:
Christine Matambo, Head of Corporate Affairs, Brand and Marketing Standard Chartered Bank Zambia Phone: +260 211 227616 ext 3503; Mobile: +260 971 966053 Email: Christine.Matambo@sc.com
Alfred Kapalayi, Political & Communications Manager, British High Commission, Lusaka Tel. +260 211 423200 ; Mobile : +260 955 045771 Email: Alfred.Kapalayi@fco.gov.uk
Published 25 February 2016