World news story
The London Metal Exchange Road Show comes to Peru
The London Metal Exchange (LME) visited Peru on 11 September as part of its Latin American Road Show, which also included Mexico, Colombia, Chile, and Brazil.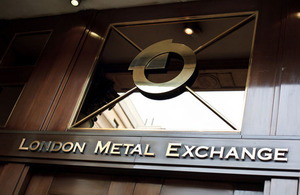 The LME Road Show hosted a series of seminars in partnership with Cesco (the Centre for Copper and Mining Studies). LME's Chief Executive Martin Abbott was joined by industry experts to deliver day-long seminars on key issues facing the Latin American metals and mining industries, such as risk management in the context of continued fluctuations around metals prices.
"The LME has always had a strong relationship with the metals industries in Latin America and we are really pleased to have received support and interest from the metals markets in each region," said Catherine Markey, Head of Marketing and Education at the LME.
The London Metal Exchange, a member of HKEx Group, is the world centre for industrial metals trading. Nowadays, the LME is the trade exchange organisation which the members of the mining industry and trade use as a reference to set the prices for their products. Over 80% of global businesses in non- ferrous metals is done at the LME.
The LME's relationship with Latin America spans over 136 years, they have been working together since 1877. The LME prices were first used by miners in Latin America and Latin American mining companies were the first to trade LME futures contracts.
At the LME seminar in Lima, the British Ambassador to Peru, James Dauris, highlighted that the LME is more than a space to establish the international prices of metals; it is also a valuable tool to mitigate the risk in the prices fluctuations. He also mentioned that large British and partially British mining companies do businesses in Peru; companies like Anglo American, Xstrata, Rio Tinto and BHP Billiton, that are leaders in environmental good practices and have high social responsibility standards.
The LME will be back in Lima from 18 to 20 November to hold introductory courses for the London Metal Exchange. For more information visit the LME web site.
Published 20 September 2013