World news story
The India-UK Sustainable Solutions Challenge winners announced
The competition on climate innovations, announced its winners at an event held at the India Pavilion at COP 21, Paris on 7 December.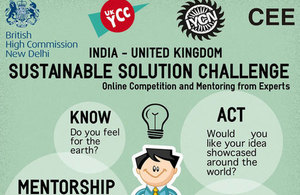 The competition was organised by the Indian Youth Climate Network (IYCN), UK Youth Climate Coalition (UKYCC) and Centre for Environment Education (CEE), with support from the British High Commission, New Delhi.
Climate change is a reality, and we need to act now. As the world gathers in Paris to agree a legally binding climate deal, Indian and British youth were recognised for developing innovative ideas to foster sustainable development and help tackle climate change.
The overall winner is Poornima Kumar, for her project titled Personal Climate Change Impact App - a mobile tracker designed to raise awareness on climate change by informing user of their ecological footprint and providing information on ways to reduce emissions.
The India winner is Sharad Parekh, for his venture titled Industrial use of solar based tech (Solar hot air generator), a device to supply hot air to industry using solar energy. The UK winner is Amelia Hedgard-Holie, for her idea titled Solar Roadways, to develop panels on roads and pathways to capture energy from the Sun.
Nick Hurd, Minister of State, UK Government, said:
The Sustainable Solutions Challenge has shown that Indian and British youth working together can develop the innovations required to tackle the climate challenges the next generation will face.
Joanna Read, UK Youth Climate Coalition, said:
The India-UK Sustainable Challenge Solution was a competition designed to increase awareness among the British and Indian youth on the need for innovative solutions to tackle climate challenges. I am glad it resulted in some cutting-edge ideas which can hopefully help us tackle this global problem facing mankind
Supriya Singh, Indian Youth Climate Network, said:
Climate change is a real threat today – and to see youth from India and Britain participate so actively to help solve this problem through pioneering ideas is fantastic. We hope that this builds a momentum and inspires others to help tackle one of the greatest challenges facing mankind.
Further information
The proposals were judged on four factors – novelty, implementability, impact and sustainability. IYCN, UKYCC and CEE plan to take this collaboration forward by opening an 'Ideas Café' to share ideas and nurture them with the help of supportive partner organisations. The overall winner will be partnered directly with a collaborating organisation to put their idea into action. More about the competition.
Stuart Adam, Head,
Press and Communications
British High Commission, Chanakyapuri
New Delhi 110021
Tel: 44192100; Fax: 24192411

Mail to: Kazim Rizvi
Follow us on Twitter, Facebook, Instagram, Flickr, Storify, Eventbrite, Blogs, Foursquare, Youtube, Vine, Periscope @UKinIndia, Snapchat @UKinIndia
Published 8 December 2015