World news story
The GREAT university inter college debate: Ramjas College declared winners
Akshay Labroo and Nikhil Saha from Ramjas College declared winners of the GREAT Delhi University inter college debate.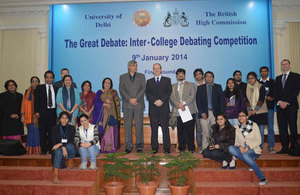 The competition was held today at the historical Viceregal Lodge. They have earned themselves a one-week sponsored tour in the UK, which includes visits to historical sites, academic institutions, cultural events along with peer group interactions. A visit to the UK Parliament and a Virgin Atlantic training facility are also planned.
Forty six Delhi University colleges participated in the GREAT debate organised by Delhi University and British High Commission (BHC). There were several stimulating presentations on the topic, "This House believes that it is the best time to be young."
The other four teams that made it to the final round are: Sri Venkateswara, Dyal Singh, Miranda House and Janki Devi Memorial Colleges.
The aim of the event was to celebrate and encourage debating prowess and offer opportunity for informed discussion amongst the student fraternity. Virgin Atlantic partnered with British High Commission.
The Vice Chancellor, Delhi University, Dinesh Singh and British High Commissioner Sir James Bevan KCMG attended. An eminent jury judged the event.
Further information
The GREAT Delhi University inter college debate photo gallery.
BHC organised an interaction session with the participants on 8 January. Priti Patel, Member of Parliament and PM's Diaspora Champion also met the students.
A special Twitter hashtag has been created for the event: #GREATDU Debate
A similar event is being organised at St Xavier's College Kolkata 21 January 2014.
Also see
Marcus Winsley, Director,
Press and Communications
British High Commission,
Chanakyapuri, New Delhi 110021
Tel: 44192100; Fax: 24192411

Mail to: Kitty.Tawakley@fco.gov.uk
Follow UK in India on Twitter, Facebook, Flickr, YouTube, LinkedIn, Storify, Eventbrite, Blogs, Foursqare
Published 9 January 2014