World news story
The GREAT Debate competition 2016-17 in Pakistan
The British High Commission in Islamabad launched its GREAT Debate 2016-17 competition with a semi-final event at the Institute of Management Sciences in Peshawar.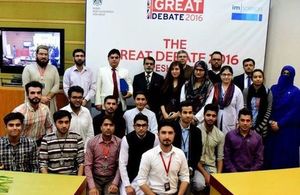 The event was fiercely debated by students from across universities in Peshawar and was attended by senior members of academia, media and alumni of the UK Government's Chevening scholarship. At the end of an intense competition, Ms. Hareem Zaffar from Islamia College University was the winner of the Peshawar semi-final while Ms. Mahrukh from Institute of Management Sciences was the runner-up.
The GREAT Debate competition will take place throughout the month of November and December in six universities across Pakistan. Building from the success of the competition last year, this year's debating events have expanded to include universities in Gilgit-Baltistan and Pakistan Administered Jammu and Kashmir region.
The British Deputy High Commissioner, Mr. Patrick Moody, said:
I am delighted to launch the 2016 edition of the GREAT Debate competition in the historic city of Peshawar. The GREAT Debate 2016 is truly a nationwide event with debates happening across Pakistan.

I have seen first-hand the increasing culture of debating in universities across Pakistan and I am pleased that the GREAT Debate gives debaters and future leaders of this country a platform to showcase their skills
The winner of the GREAT Debate 2015, Mr. Gadhaun Aslam, said:
Winning the GREAT Debate was an exciting experience for me and gave me the confidence to continue my studies with even more vigour. I wish this year's participants the best of luck.
This year's GREAT Debate focuses on themes that will play a role in shaping Pakistan's future including the role of education, business and gender in society. The scholarship reward has also been increased to give an even greater incentive to debaters. The grand finale of the Great Debate competition will bring together twelve winners from the semi-final competitions and will be held in Islamabad.
More information
The Great Debate is a debating competition for university students. There will be six semi-finals – in six different cities (Islamabad, Lahore, Karachi, Peshawar, Gilgit, Muzaffarabad) involving students from over fifty leading universities across Pakistan – and the winner and runner-up of each semi-final will compete in the final in Islamabad.The scholarship reward has also been increased to give an even greater incentive to the debaters.
Notes to editors:
For updates on GREAT Debates, please follow British High Commission's social media channels:
Contact
Press Attaché
British High Commission
Islamabad
Tel. 051 201 2000

Published 16 November 2016