Announcement
The future of HE
From:

Part of:

Published:

9 September 2010
This was published under the 2010 to 2015 Conservative and Liberal Democrat coalition government
Universities Minister David Willetts sets out the challenges and opportunities for the higher education sector.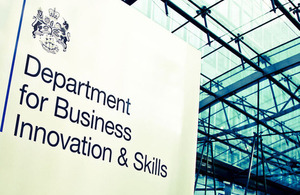 Speaking at the Universities UK conference at Cranfield University in Bedfordshire, Mr Willetts shared his and Business Secretary Vince Cable's current thinking on how best to make inevitable cuts in university funding while also ensuring the UK emerges with a better and stronger higher education sector.
But he acknowledged that final decisions would have to wait until later this year.
"I cannot today set out the final decisions the Coalition Government will reach. We have to wait for Lord Browne's review and for the conclusion of the Comprehensive Spending Review - rather a lot to wait for."
Mr Willetts said there are three main options which "form an iron triangle that is the framework for our funding decisions: either cut the unit of resource per student, or reduce the number of students going to university, or expect graduates to pay a greater contribution to their education once they are earning."
Efficiency savings
Mr Willetts said the first option could be to reduce the unit of public spending per student by realising greater efficiencies. These might include:
University staff making more of a contribution to their pensions
Sharing of back office services and procurement activities between universities
Looking at senior management costs
Student numbers
The second option is to reduce student numbers.
Mr Willetts acknowledged the trend for more people to go to university, not just in the UK but internationally, according to OECD figures. But he said a place at university should not be the only option for young people.
"We cannot have a society where university is the only route to a well-paid job and a career. That is bad for social mobility."
He said the Government is committed to ensuring young people have a wider range of options, including apprenticeships, further education colleges, part-time study and online learning.
Graduate contributions
Mr Willetts said he did not want to pre-empt the Browne Review, but "I do believe that it is better for the younger generation to have the chance of going to university and then pay for out of the higher earnings they achieve later on - rather than experiencing poorer-quality HE or being deprived of the opportunity altogether."
A stronger sector
So what will an improved higher education sector look like? Mr Willetts spoke about several key areas.
On teaching:
"Fundamental to our vision is a renewed emphasis on teaching. Nothing matters more than passing on knowledge and sceptical understanding from one generation to the next."
On private higher education institutions:
"Unencumbered by the weight of history, these providers can grow quickly and change fast. They offer a salutary challenge and new approaches to delivering higher education efficiently - and, in turn, cheaply for students."
On research:
"The primary objective of public funding must be research excellence and international competitiveness. We will back outstanding individuals, but we also appreciate - and will take into account - the benefits of critical mass and multi-disciplinary capacity."
Links
Document information
Published: 9 September 2010