World news story
The fourth Royal Society of Chemistry and Procter & Gamble holds in Lagos
A selection of renowned international and African speakers were in Lagos for the fourth Royal Society of Chemistry and Procter & Gamble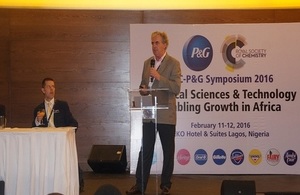 The Royal Society of Chemistry and Procter & Gamble are delighted to once again have partnered to deliver the fourth in their successful series of joint symposia, this year returning to the inaugural city of Lagos. This year's symposium, on the theme of Chemical Sciences and Technology Enabling Growth in Africa, has brought together a wide selection of renowned international and African speakers, on topics ranging from water, disease management and skincare. As well as focusing on high quality science, the symposium has delivered a program with a strong focus on regulatory solutions, entrepreneurship and paths to innovation. Commenting on the first day, RSC International Development Manager Stuart Govan said he was struck not only by the scientific quality of the presentations, but even more so by the speakers' passion and enthusiasm to unlock Africa's potential for growth. "Working with partners who share our vision, the Royal Society of Chemistry is able to generate even more impact from its activities. This is why we are delighted to be working again with Procter & Gamble, a company that very much shares our vision for Africa and what we can achieve together".
This event is part of a number of events that the Royal Society of Chemistry has delivered since the forming of the Pan-African Chemistry Network in 2008. The aim of the PACN is to support African science, solve local problems and promote global knowledge. This year's RSC-P&G symposium has attracted speakers from Nigeria, all across the African continent, the UK, Europe and America, and is therefore a perfect example of the network in action for the benefit of not only Nigeria but Africa as a whole.
Another example, recently announced as part of the Pan-African Chemistry Network, is a new five-year partnership with GlaxoSmithKline (GSK) to enhance the capabilities of African scientists in modern analytical skills. This expanded version of an existing programme will up skill and empower African scientists developing their practical analytical techniques to solve global challenges. It aims to train local chemists to train others – leaving a self-sustaining programme and lasting legacy in African science. Courses will take place across Kenya, Nigeria, Ethiopia and Ghana. For further details please visit the Royal Society Of Chemistry website.
Published 15 February 2016