News story
The Foreign Office is seeking the UK's best and brightest
Staff from the FCO careers team will answer questions on the graduate fast stream recruitment process via twitter on 29 Oct.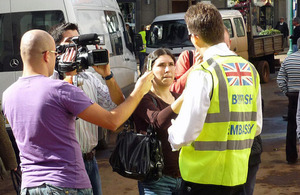 The Foreign Officer is running a campaign to recruit the best and brightest to apply to the diplomatic service's Graduate Fast Stream program. The program seeks to attract high-performing graduates from diverse backgrounds. Graduates can now apply for the Civil Service Fast stream program, the closing date for applications is 31 October 2013.
Speaking about working at the Foreign Office Hugh Elliot, Director of Engagement and Communications at the Foreign Office said:
The Foreign Office has a huge amount to offer talented graduates. Our work is exciting and challenging. We offer a career with a difference, giving a unique chance to make a positive difference to this country and internationally.
The Foreign Office careers team @fcocareers are hosting a Twitter Q&A on Tuesday 29 October from 13:00 – 13.45. The team will answer questions on the recruitment process and life in the diplomatic service. To take part in the Q&A use the hashtag #fcorecruitment and follow @fcocareers.
Further information
Case studies: read Angela's account of working as the Political and Press Officer at the British Embassy in Beirut and Nikesh's account of working on foreign policy and security at the British High Commission in Malaysia.
Follow us on Twitter @fcocareers or follow #fcorecruitment
Find out more about the Civil Service Graduate Fast Stream
Published 25 October 2013