Press release
The force is strong for apprentices
26 new Trailblazer groups have been formed to create apprenticeship standards in a variety of sectors.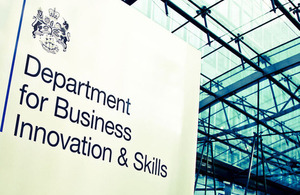 hundreds of new employers including Pinewood Studios are set to develop new apprenticeships in sectors including Film and TV, Real Estate and Veterinary Nursing
26 new Trailblazer groups will design apprenticeships in 39 exciting and varied occupations
a new Apprenticeship Delivery Board will ensure 3 million people start an apprenticeship by 2020
Young people will be able to start apprenticeships in a wide range of exciting careers in Film and TV, Biotechnology and Veterinary Nursing, the government confirmed today (22 July 2015).
Employers such as Pinewood Studios, which is involved in making the new Star Wars film, and designer shoemakers Loake, have formed 26 new Trailblazer groups to create apprenticeship standards in a variety of sectors. These 26 groups, which also consist of employers Rolls Royce, BT, Dr. Martens, and English National Opera, will design apprenticeships in 39 occupations, and existing Trailblazer groups will design an additional 4.
This is the latest step in the government's plans to deliver 3 million new apprenticeships by 2020 and will give employers a greater say in designing high-quality apprenticeships that meet the needs of industry. It comes on the same day that another Trailblazer employer, RBS, announced it is recruiting 400 apprentices to work across the business in areas including IT, customer service and human resources.
Skills Minister Nick Boles said:
Pinewood Studios was home to the new Star Wars film. Now the force is strong with young apprentices who will get the opportunity to boost their skills in a wide range of roles including TV and film set design. These apprentices will have the expertise their industry needs.

Our Trailblazer programme allows employers across the country to have their say in training tomorrow's workforce, helping us achieve 3 million apprenticeships by 2020.
Andrew Smith, Director at Pinewood Studios, said:
Young people are the future leaders of tomorrow's industry and being part of the Trailblazers means we can guarantee they have the essential skills and training. The apprenticeships we create will be a key route for new entrants into the industry and will set them on course for a fun, challenging but ultimately rewarding career.
The government also confirmed the creation of the Apprenticeship Delivery Board to advise on how best to expand the apprenticeship programme. The Board will be jointly chaired by David Meller, and Richard Harrington MP, the Prime Minister's Advisor on Apprenticeships.
Richard Harrington MP, Joint Chairman of the Apprenticeship Delivery Board said:
The creation of the Apprenticeship Delivery Board is further proof of the incredible commitment that this government has to apprenticeships, which will give so many more people the opportunity to earn a wage, and gain a valuable qualification and skill that they will have for life.
David Meller, Joint Chairman of the Apprenticeship Delivery Board said:
Through my work as Chair of the National Apprenticeship Ambassadors Network I have seen first-hand just what a difference apprenticeships can make to people's lives, and how beneficial they can be for employers who gain loyal and skilled staff that add genuine value to their business.
Notes to editors:
Today (22 July 2015), a further version of the Trailblazer Guidance has been published.
The first 8 trailblazers began in October 2013. With the 26 new Trailblazers, there are now over 140 Trailblazer groups that so far have collectively delivered or are in the process of delivering over 350 standards. The standards produced by Trailblazers will become the blueprint for apprenticeships in those occupations.
Apprenticeships generate economic returns for the UK of £26 to £28 per pound invested and are a key route to boosting the UK's productivity.
National Apprenticeship Week 2016 will be from 14 to 18 March 2016.
For more information on apprenticeships visit www.apprenticeships.gov.uk.
Trailblazer Groups and Standards
The full list of new apprenticeship standards approved for development is as below. This includes 39 standards from the 26 new Trailblazers and 4 additional standards from existing Trailblazers.
| New Trailblazer group | New standards for development |
| --- | --- |
| Asbestos Analysts, Surveyors and Technicians | Asbestos Analyst, Asbestos Surveyor, Asbestos Technician, Automotive Glazing, Automotive Glazing Technician |
| Bid & Proposal | Bid & Proposal Co-ordinator |
| Biotechnology | Licensed Animal Technologist, Named Animal Care & Welfare Officer |
| Building Services Engineering | Building Services Engineering Design Technician |
| Business Improvement | Business Improvement Technician |
| Business Innovation & Growth | Innovation & Growth Associate |
| Ceramics | Modeller, Slip Preparation Operative, Mould Maker, Caster, Firing Operative, Selector, Decorator, Glazing Operative |
| Community Energy | Community Energy |
| Community Health & Sport | Community Health & Sport Activator |
| Construction | Master Builder with a major in bricklaying, Master Builder with a major in plastering |
| Constructional Steelwork | Structural Steelwork Erector |
| Creative Venues | Creative Venue Technician |
| Energy & Utilities | Power Generation Technician |
| Energy & Utilities | Power Engineer (Degree Apprenticeship) |
| Engineering Construction Pipefitting | Pipefitter |
| Engineering Project Controller | Engineering Project Controller |
| Entrepreneurship | Entrepreneur |
| Film & TV | Props Technician |
| Footwear | Shoemaking |
| Lift/escalator Electromechanics | Lift/Escalator Electromechanic, Stairlift, Platform Lift, Service Lift Electromechanic |
| Metrology | Metrology Technician, Senior Metrology Technician |
| Motorcycle Manufacturing | Motorcycle Manufacture and Design |
| Project Management | Project Manager |
| Real Estate | Estate Agent/Auctioneer |
| Veterinary Nursing | Veterinary Nurse |
| Existing Trailblazer groups | New standards for development |
| --- | --- |
| Video Games | Community Coordinator/Associate Community Manager |
| Financial Services | Advanced Credit Controller & Debt Collection |
| Construction | Roofer |
| Food & Drink | Advanced Baker |
Published 22 July 2015