World news story
The first GREAT Britain in Kunming Week kicks off
A GREAT Britain in Kunming Week on 14-20 April, with the aim of strengthening the UK and Kunming's links in both business and culture.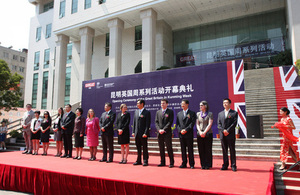 The British Consulate-General Chongqing, British Council, together with Kunming Municipal Government and their partners from various sectors, hosted a GREAT Britain in Kunming Week from 14 to 20 April, with the aim of strengthening the UK and Kunming's links in trade and investment, culture and education, tourism, technology and arts.
The GREAT Britain in Kunming opening ceremony was held on 15 April. The first public events that Kunming residents can participate in were a series of exhibitions including Chongqing photographer Jolie Luo's photo exhibition "GREAT Britain, Jolie (Jolly) Scenery" in Yunnan Library, a New Energy Car Design exhibition and Joseph Needham's Historical Photos marking the 70th anniversary of his Kunming visit, in Yunnan Technology and Science museum. These exhibitions showcased UK and Kunming's historical links, UK and Chinese students' collaboration on energy-saving industrial designs and how a young photographer from Southwest China sees the UK through her lense. Also at the GREAT Britain in Kunming week, many well-known British fashion brands and UK food and drink products were on display to the public near the Green Lake.
It is known that the UK excels at financial services, architecture design and education, but the UK also has a prosperous retail industry that plays an important role on the international stage. UK has a long history in retail, and even though it has less than 1% of the world's population, UK has one of the world's most creative retail sectors. Its designs and high-quality products are well liked by Chinese consumers as well as international consumers. In Kunming, there are already stores of British luxury fashion brands like Burberry, Aquascutum, Dunhill, Gieves&Hawkes. During GREAT Britain in Kunming week, the British Consulate-General Chongqing was working with British fashion brands Daks and Clarks and Byford, showcasing their quality shoes that represent British culture and class.
The British Consulate-General Chongqing also brought authentic British beers, Somerdale cheese and Twinings tea to Yunnan consumers. British hotel chain The Intercontinental hotel introduced a "British Food festival" during the week, providing local residents a chance to taste British food in Kunming. On 17 April, the Whisky Society in Kunming hosted a British whisky night and on 18 April, a British cheese tasting event was hosted to enjoy the UK food on the tips of tongue.
In addition to food and clothing, the GREAT British car exhibition was a part of the GREAT Britain in Kunming Week. British luxury car brands such as Aston Martin, Rolls Royce, Lotus, Jaguar and Landrover displayed their cars outside the Green Lake Hotel.
In Trade and Investment, an MoU was signed between British Wild Flower Centre, Kunming Institute of Botany and Sichuan Runfeng Landscape Engineering Ltd. Seminars on UK investment and insurance financing services was held with the help of the British Consulate-General's UK Trade and Investment section. On 14 April, British insurance broker company Willis, held a seminar, demonstrating UK's advantages in finance especially in Insurance Brokers. On 16 April, the British Consulate-General Chongqing hosted a UK investment seminar with Yunnan Department of Commerce and Kunming Department of Commerce, introducing Britain's investment environment, investment policy and related services. The seminar aimed to encourage Chinese businesses to "go abroad".
More and more people in Kunming are interested in travelling overseas. Britain is rich in history and a great place to visit. Last year, British Airways launched Chengdu-London direct flight services, making it easier for people in the Southwest China to go to the UK. During the GREAT Britain in Kunming Week, the British Consulate-General Chongqing hosted a UK Tourism Salon, inviting representatives from the British Embassy in China, UK Visa and Immigration and British Airways, talking to travel agents and media representatives in Kunming, encouraging local travellers to choose the UK as their holiday destination.
There were other events across technology, culture and education. Robert's School in Kunming organised a British Film and TV characters show. Some familiar film and TV characters like James Bond, Harry Porter and Sherlock Holmes appeared on the streets in Kunming. As part of the closing ceremony, Kunming Vervo Club will host a 'British Music Night' to experience the most successful British music in Kunming, ranging from The Beatles, Adele and Dido.
Kunming and the UK's bilateral relations have strengthened in recent years. Last year, several top official missions from Kunming visited the UK, promoting co-operation in urban planning, transportation and environmental protection. UK companies are also actively participating in Kunming's urban planning and economic development. In areas such as financial insurance, logistics and agriculture, the UK and Yunnan have started many projects. As part of the UK's GREAT campaign, GREAT Britain in Kunming Week hopes to explore many more opportunities for the UK and Yunnan to work together.
Tina Redshaw, the British Consul-General Chongqing said:
Yunnan and Kunming are very important partners in Southwest China. More and more British companies have expressed their interest in working with Kunming. With the first direct flight between London and Southwest China, flying between London and Chengdu, and our visa services responding to ever increasing numbers I believe more people in Yunnan will choose the UK as a place to travel, study and do business. There are almost 20 events on different themes during the GREAT Britain in Kunming Week. I hope through these events the UK will come closer to Kunming and Kunming will learn more about the UK.
Published 22 April 2014