News story
The East Midland's Most Innovative Businesses and Enterprising Individuals Receive Recognition From the Queen - Local firms urged to apply now for the Queen's Awards 2012
Fourteen companies and two individuals will have the opportunity to meet Her Majesty The Queen and other members of the Royal Family: the ultimate…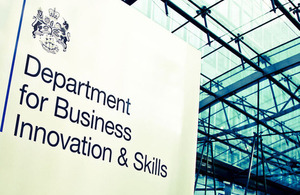 Fourteen companies and two individuals will have the opportunity to meet Her Majesty The Queen and other members of the Royal Family: the ultimate recognition of their commitment to enterprise and innovation.
The companies range from a manufacturer of guitar amplifiers to a book publisher and from a railway fastenings manufacturer to a company that makes hardware components. The awards are already making a positive impact and the firms are urging others to apply for this years awards, in what is an Olympic year and the Queen's diamond jubilee.
Dr Ian Wilcock is the Chief Operating Officer of Northamptonshire firm Irisys. The firm manufactures thermal detectors and systems for people counting, queue management and thermal imaging.
He said:
"Irisys exports over 80 per cent of our infrared sensors to countries all over the world. Winning The Queen's Award for Enterprise for International Trade has certainly boosted our profile. It's official recognition that our products are the best you can buy.
"The award also helps with recruitment. Competition for top quality software developers and electrical engineers is tough. People naturally want to work with a global leader, so the Award gives us a big advantage.
"We'd encourage other companies to apply for The Queen's Award for Enterprise."
Also attending the reception is Managing Director of Derby based Datapath Ltd, who won an Innovation Award for the continuous development of technology incorporated in large video wall controllers.
Managing Director, Bjorn Krylander said:
"We are very pleased and almost surprised at the level of recognition the Queen's Award has rendered us in all parts of the world. Our sales are equally spread around the globe and we are quite excited by the congratulatory emails and positive responses from customers and partners in Asia, America and across Europe. The award has certainly been an additional boost to the already feel-good factor at Datapath and I would encourage other firms to apply. "
Business Secretary Vince Cable said:
"The opportunity for business winners to go to the Palace to celebrate their hard work is well deserved and I hope they have a wonderful time. I strongly encourage businesses to start thinking about nominations for next year."
Peter Hogarth, International Trade Director for UK Trade & Investment in the East Midlands, said:
"The Queen's Award for Enterprise is a highly prestigious award and recognised across the world so having one of these under your belt can be particularly advantageous in overseas markets - they can give companies extra credibility and open doors to new opportunities.
"East Midlands companies should be looking now to apply to become a Queen's Award winner 2012, both an Olympic and Diamond Jubilee year."
Before the reception, Vince Cable will present some of Britain's most enterprising individuals; including Derbyshire's Paul Davies and Leicestershire's Professor Susan Marlow, with The Queen's Award for Enterprise Promotion, which rewards individuals who have played an outstanding and significant role in promoting the growth of business enterprise, entrepreneurial skills and attitudes in others.
Paul Davies, founded social enterprise Clowne Enterprise, where he is Voluntary Chief Executive and business coach. He has helped coach, advise and support over 400 individuals and businesses in this deprived ex-coalmining area.
He said:
"I feel so grateful to the people that nominated me for the Queen's Award. For those of us that work with small enterprises the success of our clients is all the satisfaction and encouragement that one needs. However to receive this award is such an honour. It is so pleasing to know that one's work is being acknowledged and recognised in this way."
Susan Marlow, who is a Professor of Entrepreneurship at De Montfort University, has used her role as a basis for a wide range of voluntary activities, particularly aimed at developing the place of women in enterprise and entrepreneurship.
Business Secretary Vince Cable said:
"It's wonderful to see that even with a difficult economic climate, individuals such as Paul Davies and Susan Marlow continue to find enterprising ways of working and helping others to establish their businesses.
"The individuals receiving awards today are an inspiration and I congratulate them on their hard work and their achievement. The opportunity for them to join the business winners and to go to the Palace to celebrate their hard work is well deserved and I hope they have a wonderful time.
"It's important we create the right conditions for Britain's new and up- and-coming entrepreneurs to succeed and I strongly encourage businesses to start thinking about nominations for next year."
Anyone who has helped individuals to develop entrepreneurial approaches and achievements with a view to starting or building a business can be nominated for The Queen's Award for Enterprise Promotion. These activities can be at both at national or local level.
The awards are made annually in April by HM The Queen and are only given for the highest levels of excellence demonstrated in each category. They are judged to a demanding level and winners receive a number of benefits and worldwide recognition. Companies receive their awards throughout the year as part of Lord Lieutenant presentations.
The application/nomination period for The Queen's Awards for Enterprise 2012 is now open and closes on October 31. Entry is free and forms can be completed and submitted online at www.businesslink.gov.uk/queensawards.
Winners will be announced on April 21 2012.
Notes to Editors
**Notes to Editors
**1. East Midlands winners: **International Trade Award winner
**Altek Europe Ltd, Castle Donington, Derbyshire
Blackstar Amplification Ltd, Northampton
Bridgehead International Limited, Melton Mowbray, Leicestershire
Igloo Books Limited, Sywell, Northamptonshir
Irisys Swan Valley, Northamptonshire
Lastolite Ltd, Coalville, Leicestershire
Pandrol UK Limited, Worksop
The UK Carbon & Graphite Co. Ltd, Belper, Derbyshire
**Innovation Trade Award winners **
---
Datapath Ltd, Derby
Molecular Profiles Limited, Nottingham
Payne Security, a trading division of Filtrona C & SP Ltd, Giltbrook, Nottingham
Peak NDT Ltd, Derby
Zeeko Ltd, Coalville
---
---
**SUSTAINABLE DEVELOPMENT
**
Blue Skies Holdings Ltd, Pitsford, Northampton
THE QUEEN'S AWARD FOR ENTERPRISE PROMOTION
**Mr Paul Davies, **Voluntary Chief Executive and Business Coach, Clowne Enterprise, Clowne, Derbyshire
**Professor Susan Marlow, **Professor of Entrepreneurship, De Montfort University, Leicester
Photography: Photographs of individual winners being presented their Queen's Award for Enterprise Promotion by Vince Cable will be available from COI News & PR on Friday 15 July on the number below. For photographs from the Reception contact the Press Association picture desk, or (main switchboard) 0207 963 7000.

The application guide explains why businesses and individuals should apply for an award. It describes the three business categories and individual award category, and gives information on eligibility, criteria and how to apply. It also gives details of the benefits of applying for and winning an award, as well as explaining the judging processes.

There are three categories that businesses can enter for The Queen's Awards for Enterprise. These categories are:
International Trade
Innovation
Sustainable Development
There is also an individual award category - The Queen's Award for Enterprise Promotion. Each Queen's Awards category has different application criteria that must be met before application.

To be able to apply for any of The Queen's Awards categories, businesses must:
Be based in the UK - Including the Channel Islands and the Isle of Man
Operate as a business unit of the UK economy
Have at least two full-time employees or part-time equivalents
Be able to demonstrate commercial success
Businesses can apply for more than one category as long as they meet the criteria for each category they want to apply for.

The forms for entry to the 2012 Queen's Awards can be completed and submitted online at www.businesslink.gov.uk/queensawards

BIS's online newsroom contains the latest press notices, speeches, as well as video and images for download. It also features an up to date list of BIS press office contacts. See http://www.bis.gov.uk/newsroom for more information.
Contact Information
Published 13 July 2011