World news story
The Earl and Countess of Wessex to visit Bulgaria: June 2013
At the invitation of Bulgaria's President Rosen Plevneliev, The Earl and Countess of Wessex will visit Bulgaria on 23 and 24 June.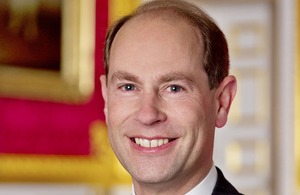 His Royal Highness The Prince Edward, Earl of Wessex, the third son of Queen Elizabeth II and Prince Philip, and his wife The Princess Edward, Countess of Wessex, are paying an official visit to Bulgaria between 23 and 24 June 2013. The visit will focus on areas closely related to Prince and Princess Edward's charitable and socially-aware work across the globe. As part of this work Their Royal Highnesses support action for children at risk and the assistance of young people in developing special skills and interests.
The Earl and Countess' visit to Bulgaria comes at the invitation of the President and as part of Their Royal Highnesses' full schedule of duties undertaken on behalf of Queen Elizabeth II.
During the visit, Prince Edward and Countess of Wessex will get introduced to the progress made so far in the implementation of the strategy for deinstitutionalisation in Bulgaria. A core element of the visit will be to raise awareness of the key issues involved, in particular the prevention of abandonment, the importance of community social service provision and the huge contribution of foster parents.
Their Royal Highnesses' visit will include meetings with representatives of all those involved in the process of deinstitutionalisation - from parents to advisors to healthcare professionals to the public sector - to discuss the different options and opportunities for placing and keeping children in a family environment. The Earl and Countess are keen to understand how success can be extended and replicated across Bulgaria.
The Prince will also support efforts to establish the Duke of Edinburgh's International Award in Bulgaria. As part of the Award, young people are mentored as they set targets for themselves on learning a new skill, volunteering, undertaking physical exercise and carrying out an adventure expedition.
Jonathan Allen, British Ambassador in Bulgaria, commented on the visit:
It's a great honour to welcome The Earl and Countess of Wessex to Bulgaria. It's an outstanding opportunity to celebrate the close relationship between Britain and Bulgaria on social causes intended to support the most vulnerable in the society. It's a chance to share valuable experience in the areas of child care, social services and education.
The visit of Prince Edward and the Countess of Wessex to Bulgaria is supported by a number of British and Bulgarian organisations, including First Obstetrics and Gynecology Hospital St. Sofia, which is successfully implementing a programme for prevention of infant abandonment; For Our Children, the first non-government organisation to introduce the prevention of child abandonment and foster care in Bulgaria, and The Duke of Edinburgh Award that aims to create a world where young people can reach their full potential whatever the circumstances.
Published 30 April 2013