The Duke of York visits Titanic Belfast
HRH the Duke of York visits exhibition based on the Titanic and Belfast's shipbuilding and maritime heritage.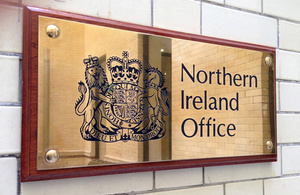 HRH the Duke of York undertook a visit and short tour of Belfast's Titanic signature project.
On arrival he met with Tim Husbands, Chief Executive, and Judith Owens, Director of Operations, who gave an overview of the Titanic signature project and accompanied him throughout the tour.
The signature building is iconic in design and impact, and houses a world-class visitor attraction. The exhibition is based on the theme of the Titanic and the wider subject of Belfast's shipbuilding and maritime heritage, of such scale, originality and innovation that it is quickly becoming Northern Ireland's largest and most successful built attraction. The building is projecting to have in the region of 500,000 visitors each year. The attraction opened on 31 March 2012 to mark the centenary of the Titanic's maiden voyage. Her Majesty the Queen visited Titanic Belfast last year as part of her Diamond Jubilee tour to Northern Ireland.
Following the tour, HRH was escorted to the Titanic Suite to meet with representatives who have taken part in the National Citizen Service (NCS) programme. The Duke of York was greeted by Nelson McCausland MLA, Minister for Department of Social Development (DSD) and Peter Sheridan, Chief Executive of Co-Operation Ireland, before meeting a number young adults who were taking part in the NCS citizen graduation and signposting event.
Developed as part of the coalition government's Big Society policy agenda, the NCS is a Cabinet Office-funded programme providing young people of all backgrounds with the opportunity to take on new challenges, learn new skills and make a difference in their communities. DSD is the lead department within Northern Ireland to develop a Northern Ireland programme, with Co-Operation Ireland as the lead partner to help deliver the pilot.
HRH then departed for his final engagement of the day.
Published 29 January 2013