World news story
The Duke of Edinburgh's Award
An info piece from Sandra Owusuah – Bempah, Gold Award Recipient from the Duke of Edinburgh's Award.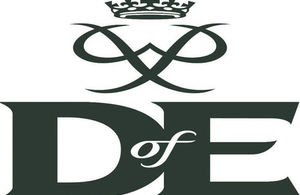 I am a living testimony of how the Head of State Award also known internationally as the Duke of Edinburgh Awards, can positively impact the lives of the young people, helping them to achieve their full potential. A few years ago, I took a giant step of challenging myself through an exciting youth development framework offered by the award programme. Little did I know that I was embarking on a life changing quest that has transformed my perspective on youth engagement and participation in my community.
I used to be a very shy and quiet young girl who thought less of myself and my ability to become an agent of change in my community. Barely six (6) months after enrolling onto the award scheme as a girl in the Girls Brigade, I noticed within myself several positive changes in my confidence and learnt new positive attitudes and values that have transformed my perspective of life. I learnt important skills outside the classroom like communication, leadership, planning, management and research among others. My confidence in myself has grown immensely, and I have acquired key competencies such qualities as self-reliant, self-esteem and self-discipline.
I believe that to confront the challenges our communities face, we need to define the issues and develop strategies for action. We need to foster leadership, literacy and language development among the youth and provide them an enriching job experiences that prepares them for the field of work. Over a period of 12 – 18 months, I am happy to say that the award programme had helped me to volunteer a total of 1,296 hours of service to our community. I have gained a range of enterprising experiences and the qualities needed to survive in this challenging and competitive world. The dignitaries, programmes, places I have visited and learning experiences that my various skill development centre organized has been most exciting. I am now focused, disciplined and strong.
The experience of every expedition will live with me for the rest of my life. I have done a total of 168km hiking on foot, spending 8 nights in the rural area of Ghana experiencing often times challenging forest terrains. In smaller teams, we researched on areas of tourist attraction and studied the cultural heritage of various villages and towns, carrying out education on social and health issue related workshops. Life was not the same as in Accra and I understood the community's problems. I had compassion towards many children we interacted with who did not have the opportunity to go to school, others without uniforms, books, shoes or money to buy food. I came back to Accra appreciating more greatly what I had and valuing the opportunities available to me. I encourage all young people to try the adventurous journey that the award scheme has to offer and to discover what we can do collectively as young people as part of a generation that can work together to satisfy societal needs.
I am delighted to have earned my Gold Award, and to have received my certification from His Excellency President John D. Mahama .
I will continue in my effort to develop myself and my nation through the Award and encourage others to do same. I will continue to volunteer my time, energy and resource to others because I understand the joy of the giver in volunteerism. I encourage all young people to take life as a challenge. I have learnt that there is a lot within me as young person to create a better world for myself and the people around us instead of waiting on others to take action on our behalf . I have all it takes to impact my society.
Published 24 May 2016