World news story
The Duke of Cambridge will visit Japan and China
The Duke of Cambridge will visit Japan and China in early 2015 at the request of Her Majesty's Government.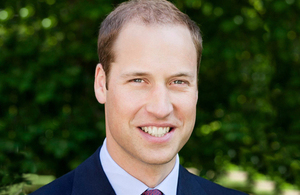 The Duke will spend approximately three days in each country, departing in late February and returning to the United Kingdom in early March.
First, in Japan, His Royal Highness will undertake engagements in Tokyo and elsewhere on behalf of the British Government, focused on UK-Japan relations, commerce and cultural exchange and in support of his own personal interest in combating the illegal wildlife trade.
He will also launch an Innovation is GREAT campaign showcasing UK technology in fields from robotics to big data. The campaign, which will continue throughout 2015, will aim to generate business, educational and R&D tie-ups between the UK and Japan.
Then, in China, the Duke will officially open the GREAT Festival of Creativity at Shanghai's Long Museum on Monday, 2nd March. The Duke will also undertake engagements in Beijing and elsewhere to promote UK-China relations, people to people links, and in support of his work to combat the illegal wildlife trade and support wildlife conservation.
Further details about His Royal Highness's itinerary will be released in due course.
Related links
British Embassy in Tokyo facebook page
Published 1 December 2014