World news story
The Duke and Duchess of Cambridge's visit to Bhutan - Day Two
Today promises to be a very special day. The Duke and Duchess are hiking to Paro Taktsang, the Tiger's Nest monastery which dates to 1692.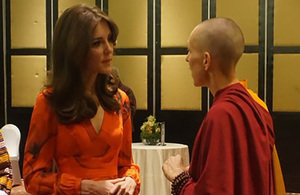 The monastery is near the cave where Guru Padmasambhava – who is credited with introducing Buddhism to Bhutan – is said to have meditated for three years, three months, three weeks, and three days in the 8th century. It is a magical place that The Duke and Duchess are thrilled to be visiting. Their hike will take between 5-6 hours in total and will allow them to get a real sense of the natural and spiritual beauty of the country.
Back in Thimphu this evening, The Duke and Duchess will attend a reception for British nationals in Bhutan and Bhutanese people with strong links to the UK.
Further information
Follow The Duke and Duchess of Cambridge's visit to India and Bhutan on:
Twitter @UKinIndia #RoyalVisitIndia
Whatsapp: save the number +91-9654141882 to your contacts and send 'hello'
For media queries, please contact:
Stuart Adam, Head,
Press and Communications
British High Commission, Chanakyapuri
New Delhi 110021
Tel: 44192100; Fax: 24192411

Mail to: Deepti Soni
Follow us on Twitter, Facebook, Instagram, Flickr, Storify, Eventbrite, Blogs, Foursquare, Youtube, Vine, Periscope @UKinIndia, Snapchat @UKinIndia
Published 15 April 2016