World news story
The Duke and Duchess of Cambridge launch Start-Up Awards in Mumbai
The awards aim to identify and support some of India's best and brightest start-ups.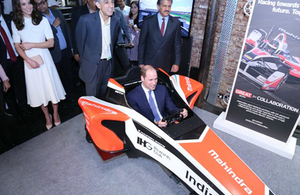 Their Royal Highnesses The Duke and Duchess of Cambridge launched the Tech Rocketship Awards 2016-17 at a GREAT for Collaboration event for young entrepreneurs.
The awards aim to identify and support some of India's best and brightest start-ups, helping them to grow and internationalise their businesses.
Now in its third year, the Tech Rocketship Awards – an initiative by UK Trade and Investment (UKTI) in India – provides top Indian start-ups with expert business advice and support from leading professional services companies in the UK. This year the competition gets bigger and better: the ten most promising start-ups from the competition will win a week-long business trip to the UK. There they will meet venture capitalists, experienced industry leaders and entrepreneurs who will provide them with guidance on how to establish a firm footing abroad - starting with the UK.
At the official launch of the Tech Rocketship awards, Kumar Iyer, British Deputy High Commissioner Mumbai and Director General of UK Trade and Investment in India said:
We are delighted to have The Duke and Duchess of Cambridge launch the Tech Rocketship Awards today. We're looking for the next batch of leading Indian entrepreneurs that will probably change the world through their technology. Some of the young entrepreneurs Their Royal Highnesses met today already have some truly amazing innovations.
At the awards launch The Duke and Duchess were highly impressed by the ideas, innovations and energy of all the young entrepreneurs they interacted with. The Duke and Duchess tried out a few letters on a Braille learning machine designed by Sanskriti Dawle, co-founder of Project Mudra and a winner of Tech Rocketship Awards. They were invited to view and try out a simulator of a Mahindra Formula E racing car, an example of UK-India technology collaboration. They also met Chris Sheldrick, Founder of What3Words, who partner with Indian social enterprise Pollinate to bring lighting to less privileged areas in Indian cities.
The launch of the awards by Their Royal Highnesses was followed by a pitching session where four young entrepreneurs showcased their innovations to a panel comprised of business leaders and icons of the entrepreneurial world. The panellists were Anand Mahindra; T.V. Mohandas Pai, of Aarin Capital; Saurabh Srivastava of the Indian Angel Network and young entrepreneur Shradha Sharma of YourStory a leading tech media platform. The event was hosted by Social, a hub for innovators and entrepreneurs during the day and a restaurant in the evening.
Mr. Mahindra said:
The UK is a hotbed of technology and we need to deploy that know-how in India. The Tech Rocketship Awards is exactly the platform that can give young Indian entrepreneurs access to the UK's prowess in this sphere. Mahindra group drives various initiatives to encourage innovation and entrepreneurship both within and outside Mahindra and we are creating a start-up ecosystem that allows it to leverage its strengths and create value for entrepreneurs. I am looking forward to judging the entries for the competition this year.
The awards are a GREAT for Collaboration initiative, aiming to link up fast growing Indian companies with potential UK Venture Capital and finance opportunities. The launch coincides with a delegation of UK Venture Capitalists to India.
Applications are open to entrepreneurs under 40 in India who have been operating a company created from the year 2000 onwards. One winner will be selected from each of five categories – Cleantech, EdTech, Fintech, Medtech and smart manufacturing - and a further five winners will be selected in the 'Judges Awards' section, from any sector. The winners will be announced at the UK-India Technology Summit in New Delhi, in November 2016.
The UK provides an excellent platform for Indian companies to grow their businesses overseas, with world leading financial and professional services and a burgeoning technology sector.
Further information
Tech Rocketships website

GREAT for Collaboration: Launched by Prime Ministers Modi and Cameron, the campaign celebrates and drives trade and investment partnerships between India and the UK, and showcase the great things the UK and India can do together. The two PMs and ten of the countries' most senior business leaders appeared on a video to launch the campaign.

UK Trade and Investment (UKTI) is the government department that helps UK-based companies succeed in the global economy and offers professional, authoritative and personalised assistance to help companies in India locate and expand in the UK.

the UK has been a popular destination for Indian investments for over 100 years.
with low tax and a talented workforce, Britain is one of the easiest places to grow your business.
it takes only 13 days to set up a business in the UK, compared with the world average of 35 days.
the UK is ranked 6th globally for Ease of Doing Business. According to World Bank's report (Oct 2015), the UK has become an easier place to do business in the past year after reforms to red tape and corporate tax
in 2014-15, the UK won a record number of inward investment projects and maintains position as top investment destination in Europe.
India emerged as Britain's third biggest job creator in 2014 as the country saw a 65% increase in foreign direct investments (FDI) from India. In 2014-2015 Indian investments in 122 FDI projects created 7,730 new jobs and safeguarded 1,620 jobs in the UK. (Source UKTI)
the total number of people in the UK employed by Indian companies has increased by 10%: from 1,00,000 in 2014 to nearly 1,10,000. (Grant Thornton)
ICT, advanced engineering and life sciences are among key sectors for investment from India.
the UK offers the lowest corporation tax rate in G20, and is a gateway to Europe and the world
Find out why the UK is the most attractive overseas business destination
Tech Rocketship Awards – Partners:
Follow the Duke and Duchess of Cambridge's visit to India and Bhutan on:
Twitter @UKinIndia #RoyalVisitIndia
Whatsapp: save the number +91-9654141882 to your contacts and send 'hello'
For press queries, please contact:
Follow us on Twitter, Facebook, Flickr, Storify, Eventbrite, Blogs, Foursquare, Youtube, Instagram, Vine, Snapchat @UKinIndia, Periscope @UKinIndia
Published 11 April 2016