The Department for Education's response to public comments on the coalition agreement on families and children
A statement in response to public comments regarding the family justice system, Sure Start, childcare provision and the tax-benefit system.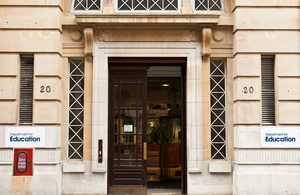 We welcome the comments made in response to the families and children agenda set out in 'The Coalition: Our Programme for Government'. Although we will be reflecting upon all the comments made, there were some recurring issues that we would like to address immediately.
There was a wealth of comments on the role of family in building cohesive societies. The Government recognises this and wants to empower families by dismantling the barriers that prevent them from giving children a fair start. Too often, families worry their children are being forced to grow up too early, that teenagers do not have enough activities available, and that it is difficult for both parents to balance their working and family lives. That is why the Prime Minister has set up a childhood and families task force to look at the barriers to a happy childhood and a successful family life.
It is clear from the comments made, that where families do separate, the process can be tough for all involved, particularly when the case goes through the law courts. The Family Justice Review was launched earlier this year to examine the effectiveness of the family justice system in England and Wales and the outcomes it delivers. It also aims to make recommendations for reform, so that families can reach arrangements that are in the best interests of the children and which value the roles of both parents and the particular support grandparents can bring when parents' relationships have broken down. This review will produce final recommendations for government in 2011.
Many of you also commented on our commitment to take Sure Start back to its original purpose of early intervention and increase its focus on the neediest families. Sure Start children's centre leaders, their staff and volunteers are dedicated and committed to improving the life chances of vulnerable children - but we know there is more to do to help the most deprived families access children's centre services, so that problems are tackled before they arise. Sure Start children's centres can help to address inequalities that are rooted in the very start of a child's life. We want to see services for the neediest families designed locally, and delivered based on the best available evidence on what works. As many of you commented, health visitors play a really critical role, which is why the Government is currently looking at how best to deliver the commitment to an extra 4200 health visitors. We are working with a range of stakeholders (including children's centre leaders, LAs, health professionals and service users themselves) to take this work forward.
Concern was raised by many families about the affordability of childcare provision. We are clear that we will continue to support free nursery provision. This is why we have announced that from September the free entitlement will extend to 15 hours per week for all three- and four-year-olds for this year. We also want to encourage a diverse range of providers and we are listening to the views from all parts of the sector on how this can best be done, bearing in mind the current primary legislation requires LAs to secure Early Years provision free of charge.
We have discussed with our colleagues in other government departments the concerns raised about reforms to the tax-benefit system and the impact this may have on families across the country. The Government is clear in its commitment to reform welfare and taxes, and we can confirm plans will be brought forward to reduce the couple penalty in the tax credit system as savings are made from wider welfare changes.
We will also be setting out our priorities for children, young people and families (including our commitments to tackle the challenges faced by children with special educational needs and disability) in the coming months.
Related links
Families and children - The Coalition: Our programme for Government
Government responses - The Coalition: Our Programme for Government
The Coalition: Our programme for Government
DfE enquiries
Central newsdesk - for journalists 020 7783 8300
General enquiries - for members of the public 0370 000 2288
Published 30 July 2010