The Department for Education comments on the EMA
Response to reports about the Institute for Fiscal Studies' analysis of the EMA.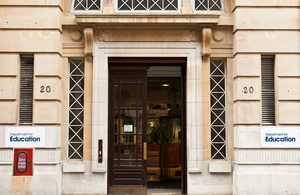 Responding to reports about the Institute for Fiscal Studies analysis of the EMA, the Department for Education said:
Around 90 per cent of pupils receiving the EMA would still go to college or sixth form even if it didn't exist, according to research from both the IFS and NFER.

We have consistently made it clear we will still provide support for the 10 per cent of young people who really need help to stay in post-16 education, through substantially increasing the size of the discretionary learner support fund.

In these tough economic times, we simply do not have the luxury of being able spend hundreds of millions on a programme that doesn't see results in return for the majority of the money spent.

We must bring down the huge national debt, otherwise the economy cannot recover. If we don't, it will be young people who pay the price when firms can't begin recruiting new workers.
DfE enquiries
Central newsdesk - for journalists 020 7783 8300
General enquiries - for members of the public 0370 000 2288
Published 15 December 2010